Soul Sister Quotes: We have heard of soulmates at least once or twice but how about soul sisters, ever heard of it, do you know the meaning? A soul sister must not necessarily be a biological sister, in most cases, they are always 'unbiological'.
A soul sister is a friend by heart and a sister by soul. Sounds funny right? ??
Having a soul sister is a humbling and rewarding experience. Even if you don't share the same bloodline, you know the two of you still connect in so many other ways.
With a soul sister by your side, it's like you found your other half but are still whole… if that makes sense. You're not completely lost without her, but you know that if she wasn't around, an important part of you would have never been unearthed. It's almost like magic, the way her very presence transforms you into this lifted and happier being.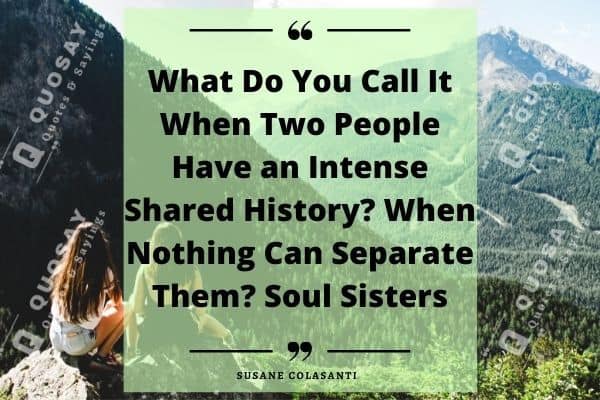 Probably you have gone through Goodreads searching for soul sister quotes either to send it to her as a happy birthday wish or maybe you want to use them as captions for an Instagram post or make these quotes into various quote stickers for your soul sister, and she can stick them anywhere she wants.
Quotes stickers are not only used to decorate her items, but she also can read these quotes anytime, etc. Whatever is your reason, we've got you back as we have compiled some carefully selected soul sister quotes and sayings with images.
Choose your favorite type from the following quotes with images, and submit them to Customsticker.com to create personalized quote stickers. By the way, you can print your soul sister's name, photos, and other elements on the quote stickers to customize personalized quote stickers for her.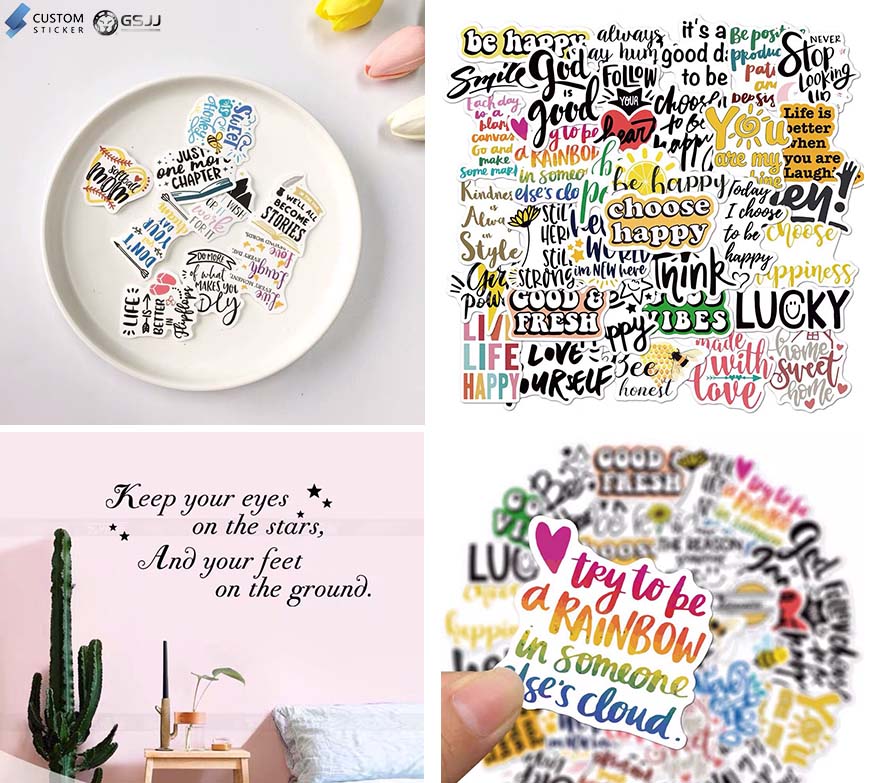 Soul Sister Quotes
"What do you call it when two people have an intense shared history? when nothing can separate them? Soul Sisters" – Susane Colasanti
 "Having a sister is like having a best friend you can't get rid of. You know whatever you do, they'll still be there." — Amy Li
"A sister is like yourself in a different movie, a movie that stars you in a different life." – Deborah Tannen
"An older sister is a friend and defender – a listener, conspirator, a counselor and a sharer of delights. And sorrows too." – Pam Brown
"A sister smiles when one tells stories—for she knows where the decoration has been added." – Chris Montaigne
"Look inside any sister relationship and you'll find a wealth of interesting stories." – Colleen Sell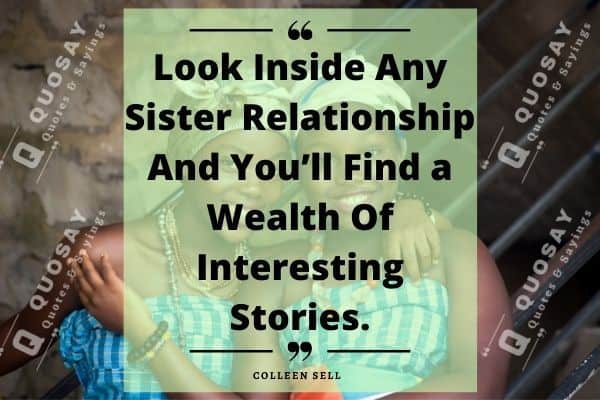 "My sister and I truly are best friends." – Solange Knowles
"Friends change, lovers leave, sisters are eternal." –Unknown
"Sister is our first friend and second mother." – Sunny Gupta
"A sister is a dearest friend, a closest enemy, and an angel at the time of need."― Debasish Mridha
"I would like more sisters, that the taking out of one, might not leave such stillness." ~Emily Dickinson
"A loyal sister is worth a thousand friends." — Unknown
"Come on Grace, I'm not going to tell on you. I'm your sister.' And that's all she has to say."― Robin Epstein
"Help one another is part of the religion of sisterhood." – Louisa May Alcott
"She is the only person left in the world who shares my memories." – Lisa See
"A Sister can be seen as someone who is both ourselves and very much not ourselves – a special kind of double." – Toni Morrison
"Happiness is being with my sister." – Unknown
"Sweet is the voice of a sister in the season of sorrow." – Benjamin Disraeli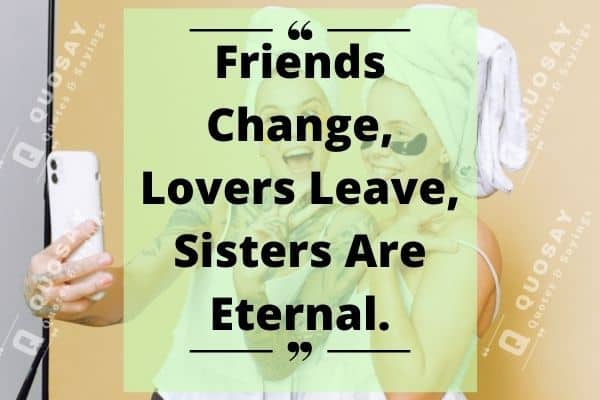 "Sisters are different flowers from the same garden." – Unknown
"Sisters are friends we have for a lifetime." – Catherine Pulsifer
"What's the good of news if you haven't a sister to share it?" – James DeVries
"Sisters. Because we all need someone who will defend us behind our back and then call us on our shit to our face." – Brooke Hampton
"She is the mother I never had, she is the sister everybody would want. She is the friend that everybody deserves. I don't know a better person." – Oprah Winfrey
"My sisters are my favorite people on earth." – Ryan Phillippe
"You're not my best friend. You're my sister, and that's more." – Jenny Han
"Parents die, daughters grow up and marry out, but sisters are for life." – Lisa Lee
Soul Sister Sayings
"I don't know if I have found my soulmate yet, but I do know that I have found my soul sister. I know for a fact that we are meant to be each other's sisters."
"There's plenty that I want to say to you, but most of all, I just want you to know how grateful I am to have you as my soul sister. You're the best!"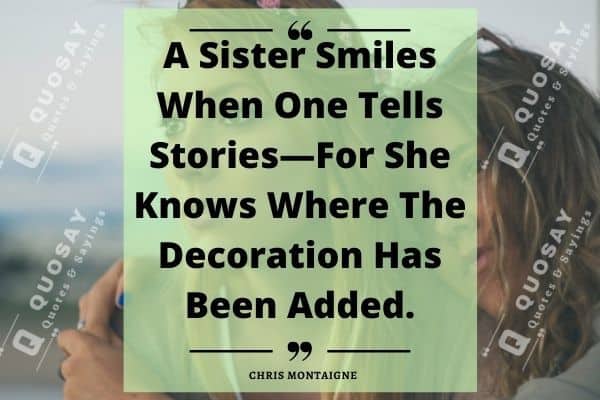 "Even when everyone is standing against you, I will be with you, my dearest soul sister. It wasn't easy to find you, and now that I have, I swear to protect you."
"A soul sister is more than just a normal sister. We are bound more than by just blood. We are bound by soul, from this life to the other and beyond. I love you, my dearest soul sister."
"I love how perfectly we synchronize as soul sisters. You are my sister as I am yours, and I know that you will always be here for me as I will be for you."
"Dearest soul sister, I thank God for letting me meet you as my soul sister in this life. I don't know if we have been sisters in our past life, but I do hope that we did and will again in our next lives."
"We are sisters in real life, and we are soul sisters. I like to believe that we have known each other far longer than we have in this life. Who knows, we might have been siblings in our past lives too!"
"You are my soul sister. We are bound to experience sisterhood together in a deeper connection than any other sisters ever will when they are bound only by blood."
"Thank you for being my soul sister. You may not be a perfect person, but together, we are the perfect sisters. I will always cherish you as my sibling."
"Ever since you came into my life, you changed everything in my life for the better. We may not be from the same family, but I do believe that our bond is much stronger than that of any other sisters."
"You are my confidant, my source of joy and laughter, and most of all, strength to face any incoming challenge. Thank you, soul sister."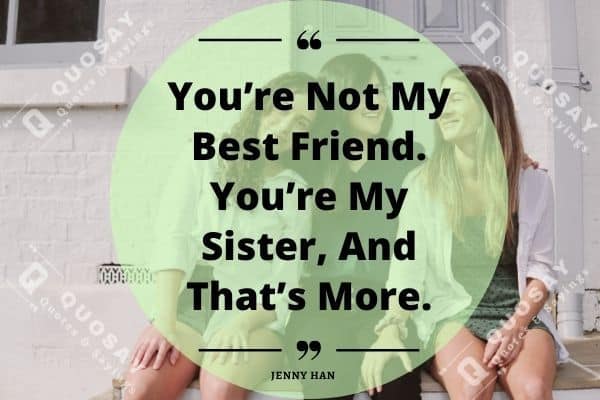 "You are the most important friend I'll ever have in my life. You're my best friend, a family member that I chose to have, and my soul sister. Your presence will always brighten up my day, whether you know it or not."
"I didn't even know that it would be possible to find someone that syncs with me so well – more than my blood family, more than my partner. In any case, I'm so glad to have found you, my dearest soul sister."
"Thank you for coming into my life. I can no longer picture my life without you, a soul sister who I can talk to, rant to and so much more. I appreciate you lots and lots!"
"I never felt such strength until I came to know of you as my soul sister. When we stand together, I believe that we can fight against the entire world and win."
Which of these soul sisters quotes was your favorite, how do you intend to use it? Do you want to share it as captions on Instagram or send it as a happy birthday wish? You can tell us in the comment section below.
If you have a soul sister, consider yourself lucky! Indeed, not everyone gets to experience such a special friendship in this lifetime. Soul sisters may not have grown up in the same family.
However, they connect on such a deep level that it seems like they've known each other forever. You'll find that no friendship compares to the one you have with your soul sister. She will just "get" you, without you having to translate your soul.
In other words, you will speak the same language and feel that your hearts come from the same place. If you can find a best friend and soul sister in the same person, you'll never have to feel misunderstood or alone in this life anymore.
This world can seem like an overwhelming, scary place at times. But having someone who will support you always, no matter what makes the journey so much easier to bear.
Don't forget to share these soul sister quotes and sayings with images on Facebook, Instagram, Tumblr, Pinterest, etc using the share buttons below.