Do you have a family member who's been dealing with a terminal illness? If so, how are you helping them cope with their condition? What are the measures that you take to make sure that they're obtaining proper healthcare to improve their condition?
Regardless of their end-stage medical condition, there are various ways you can boost the remaining moments of your terminally ill loved one's life. For instance, you can click here to learn more about availing of hospice care services. The following suggestions are also other ways to improve the life of a terminally ill loved one.
Prioritize The Patient's Needs
When it comes to improving the life of your terminally ill family members, one of the best things you can do is to provide them with quality healthcare services that best suit their medical needs.
Although the task may not be as easy as it may seem due to various factors that you must ponder upon, allotting some of your time to learn their condition, medical background, and their perception about obtaining medical treatments can be of great help in helping them deal with their situation. 
Intrinsically, patients' needs vary depending on their medical condition and cultural traditions.
Many researchers believed that patients' needs significantly rely on acquiring optimum patient care, having stable communication with their loved ones, and learning about their condition. Along with that, patients' needs may also include confidence, education, support, and self-care. 
You may also consider finding the best medical care for them if you're not sure about the proper ways to do so.
In doing so, you may start with hiring a reliable and competent medical practitioner who'll look after them and provide for their needs. To match them with the right physician, you may administer a patient-physician matching service to effectively pull this off.    
Select The Best Medical Care

 
Seeking professional assistance may help you better deal with your terminally ill family members' physical and mental limitations. Researching and looking into different homecare providers is an important step to take before making a final decision. The degree of care required is also a key factor to consider when conducting the search. 
Choosing efficient in-home care reduces the possibility of negligence and recklessness on your part when it comes to taking care of your family member who's in a critical condition. Moreover, hiring a competent medical service provider guarantees that your loved one will receive adequate assistance in their remaining years.
When doing so, make sure that you give the medical practitioner as much information about the patient as you can, including their medical condition, family history of diseases, preferences, and the activities they enjoy engaging in.
It's also imperative for you to properly screen potential candidates, as this can help you know them better and if they're capable enough to handle the job.   
Motivate Them To Lead A Healthy Lifestyle
To effectively improve their health through proper diet, you must learn some efficient ways to help them vary their food intake, which should include fruits, vegetables, and whole grains.
A balanced combination of fruits and vegetables will allow them to enjoy plenty of vitamins and nutrients that their body needs to make it stronger and healthier. Although you may think that such foods may not do anything to improve or treat their condition, they may significantly help them have sufficient defense against complications.
Despite the lack of studies to prove that certain diets or certain nutrients can subdue the recurrence of the symptoms of terminal-stage illnesses, various researchers suggest eating a varied diet that consists of specific fruits and vegetables can keep symptoms under control. 
Encourage Them To Engage In Outdoor Activities
Having regular exercise and engaging in outdoor activities can be of great help in keeping one's body healthy and in good condition. It can also improve one's interpersonal skills and allows one to bond with other people.
Morning jogs, stretching, and walking exercises can significantly improve their condition while enjoying some time under the sun and bond with the people they love. 
To efficiently better your loved one's life, one of the best things you can do is to spend more time with them. No amount of material things can make them happy in their remaining time than spending it with the people that matter to them.
Allotting some of your time to be with them and make them feel special can significantly lessen their burden and make them forget about their health condition for a while. In that aspect, this alternative can also significantly help them to be comfortable in the company of other people and recreate relationships with others.
As much as it can help healthy people, exercise can also offer the same benefits to terminally ill patients. Some of these benefits may include greater muscle strength, leaner body mass, less weight gain, and an increased level of fitness. Additionally, exercise can also provide the following benefits:
Reduce fatigue

Boost self-confidence

Improve mood and behavior

Nothing lasts forever, so it's best to always make every moment spent with your family worthwhile and meaningful. This not involves bonding with them but also lightens the loads they carry and makes them feel that they're not alone in facing the changes in their lives.  
It's important to make time for them, give them your attention, and make them feel your love, as this can help them deal with their health battles better. Also, emotional support and love from family members can further help your loved one deal with their condition.     
Apart from maintaining tight family bonds to help your family members improve their quality of life during their senior years, securing consistent communication with them will also be of great help.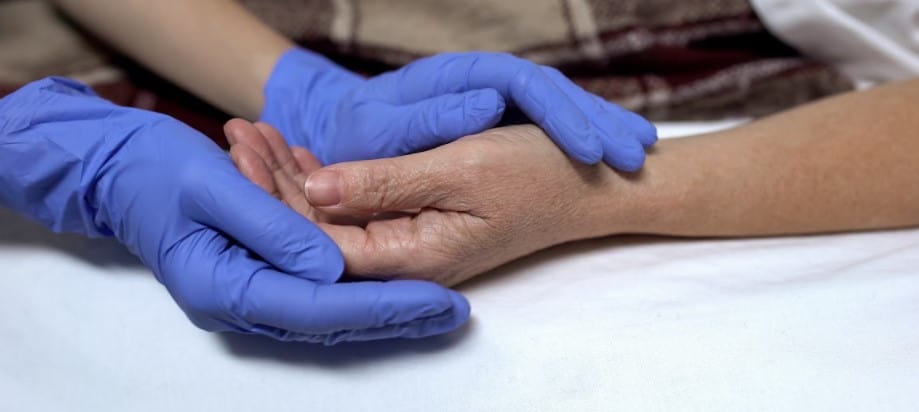 Takeaway
Looking after a terminally ill loved one's health and ensuring that they're getting optimal medical care in their remaining years can be financially straining and challenging, especially if you lack adequate knowledge about their medical condition and needs.
While this task may sound intimidating, there are various alternatives you can make use of to effectively better their life.
Some of the best things you can do to improve their life may include identifying their needs, providing them competent and dependable medical care from reliable in-home hospice care services, and creating a comprehensive care plan for them that'll efficiently cater to their needs.
Motivating them to practice a healthy lifestyle and boosting their morale can also be of great help in improving their lives