Do you admire others sporting polka dots and you wish that you would do the same? Then, break away from the stereotypes and look at polka dots differently. They are timeless fashion trends that every designer, fashion blogger, and street style stars are updating now.
Therefore, you can now wear polka dot to work, dress up on dates, and going out with friends as polka dot is now versatile, elegant and fluid.
Experiment with polka dots by pairing them with plaids, prints, florals, and play around with different colors. Blue, black, red, pink, as there is so much color you can try. Below are some stylish simple ideas on how to dress in polka dots.
1. Wear with other patterns
Mixing polka dots with floral prints is perfect for spring. Many people think while dressing to bold patterns you need to pair it with neutral or solid separates.
However, this is an old fashion way to follow as mixing patterns is one of the great ways today to create a personal unique fashion statement. Shop for an off-shoulder polka dot and click on this online boutique for one to pair with your floral skirt or pants.
Through this, you will have a playful street outfit. Also, you are sure to turn heads with this simple yet elegant combo as you step out.
2. Polka dot jumpsuit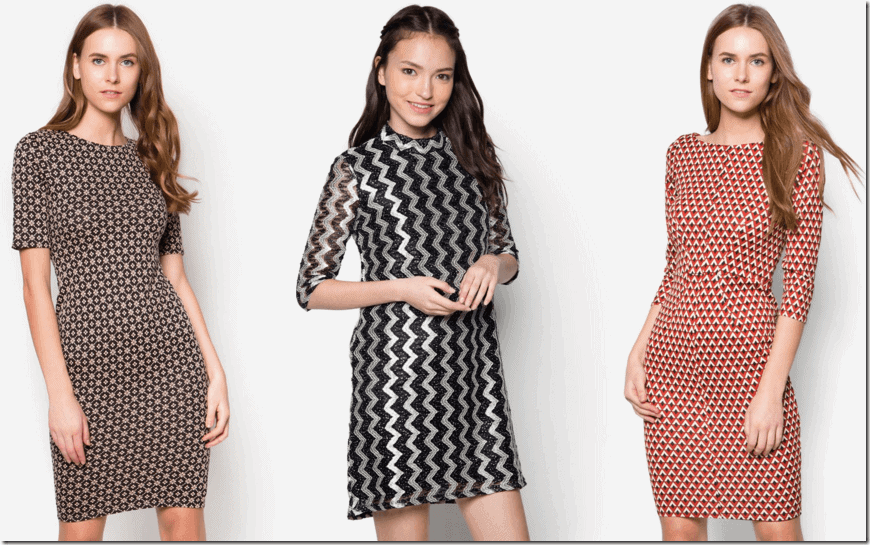 Every woman loves the convenience of one-piece dressing. Hence, the jumpsuit is one that you should opt for when the weather gets warmer.
Opt for a polka dot jumpsuit for a different style. For this reason, as you step out to see what the fashion world has to offer, also step out to be seen. Slip into a jumpsuit in the morning and get on with your day. It is easy and convenient.
As part of your spring fashion, choose a black and white polka dot or any other color you prefer that suits your body type and the event you are going to.
Thus, if you are going out in the evening, dress up in a polka dot jumpsuit, for concerts and weekends. Accessorize with a vest, slim belt and thong sandals among others.
3. Style with a polka dot scarf
If you are trying to incorporate polka dots into your closet. First, add simple closet essentials like a polka dot scarf. A polka dot scarf is easy to layer on your outfits as it adds polish to your ensemble and pattern to a boring look.
Try this on your date outfit, heading to work, or as you meet with your friends and the positive compliments will get you buying more polka dot.
For instance, add a black and white scarf to a swingy dress or as necktie stuff over distressed shorts and a white tee to make it more stylish.
4. Polka dot dress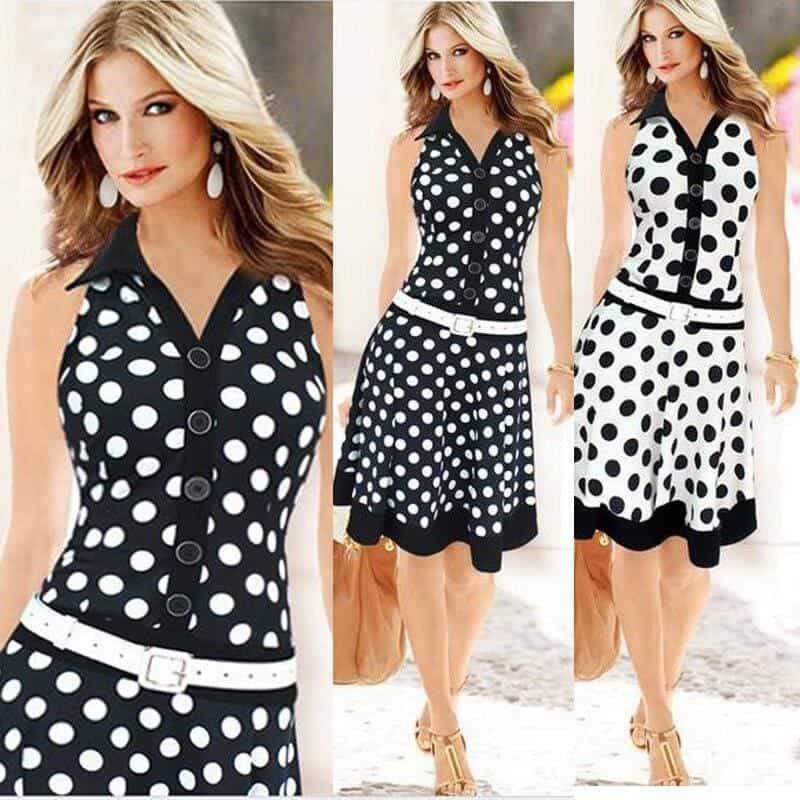 To get black, white and beautiful all over, buy a polka dot maxi dress. It is an ideal summer and spring-summer style that you can't go wrong on.
Choose a body-skimming cut that allows you to move freely and you can enjoy an easy-breezy fashion vibe. Other dresses with a sophisticated yet effortless vibe and looks great with every woman is a wrap polka dot dress.
Additionally, choose a black and white polka dress and layer a red coat over. This brings out black, white and red all over again which is a fashion color blend that never goes out of style.
5. Wear polka dot T-shirt over jeans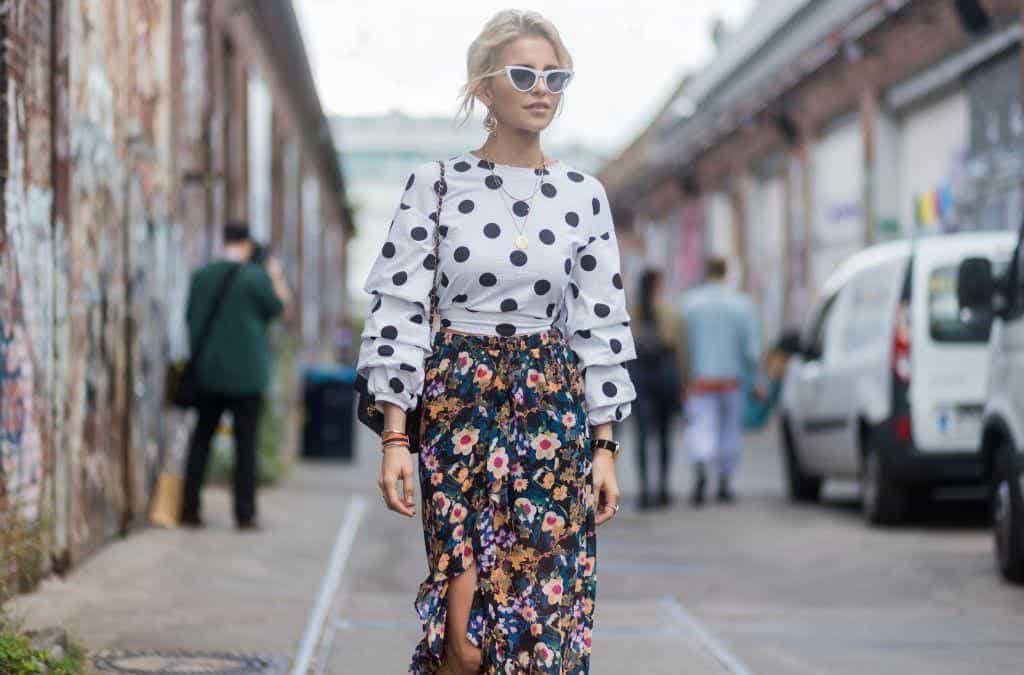 Create a girl next door vibe with polka dots and denim. This is a popular American fashion combination that is effortlessly chic.
It is like a fashion formula that you can copy to create an entrance for a casual date look. Wear this look for parties as well, and you will get amazing compliments.
Wear the latest trendy denim jeanswear with a black and white polka dot and step out in beautiful heels. The heels are necessary to add a sexy appeal to this simple look and also to elongate your legs.
6. Polka dot skirts
First off, a polka dot mini skirt is a cute and playful spring outfit to wear. Choose one in a bold and big pattern and stick to the same color palette for an elegant street style outfit.
On the other hand, it is a polka dot maxi skirt that you can find in various boutiques, in unique designs, styles, cuts, and fabrics.
For instance, a pleat maxi skirt in a saturated hue like emerald green, pumpkin, and others that are great on transitional weather.
This you can pair with a lightweight polka dot sweater and ankle boots. This is an amazing spring outfit that you can wear to meet the parents, for walks, and to go antiquing.
7. Polka dot pants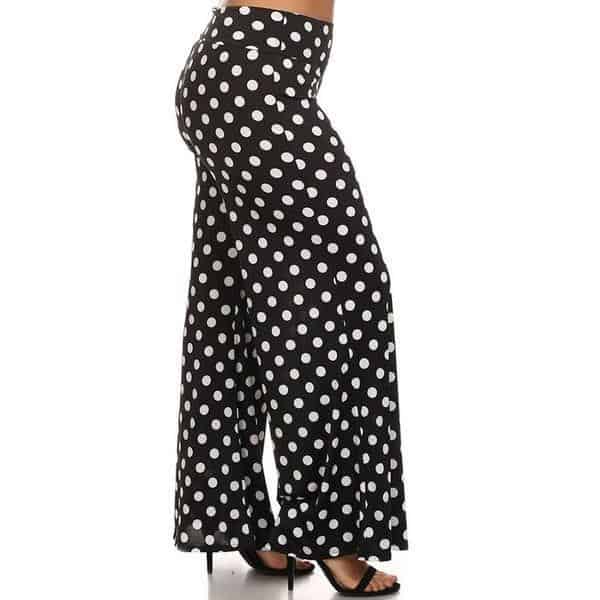 This polka dot idea is for those who love the 1980s fashion. The polka dot pant trend is popular among many runways now.
Wear them with a lacy top and matching cardigan as they are a fun look when won with slim white polka dot trousers.
To get a modern feel try this style example with a flat shoe style and for color add a popping red purse or other bright accessories but do not overdo it.
Optionally, you can go for a great off duty look with a white blazer and black and white polka dot pants. Plus, to amp up the wow factor of this look, add black suede pumps.
Conclusion!
Polka dot prints stand the test of time as others come and go. Besides, they are not limiting on how you wear them. As you can wear them with florals, stripes, or plaid.
Plus, you do not have to rock them only on your clothes, but also on your shoes, bags, bands, and accessories.
Importantly, do not wear too much polka dot all at once. Pull out your polka dot for a weekend brunch with friends or work.