If medical marijuana has been legal in your state long enough, you might forget that it's not a universal situation.
Thus, as soon as you start packing your bags, the temptation may be high to put your pack of medical weed or some CBD edibles into the bag together with your swimsuit and sunglasses.
But will that pass at the customs? Or will you have trouble with the police trying to smuggle your medications through the border? 
Here we uncover everything you need to know about traveling with weed or weed-derived products nationally and internationally. Study these tips carefully to avoid legal trouble and detention. 
Traveling with Weed across the USA 
Planning a journey from one U.S. state to another? Check the medical marijuana reciprocity laws that the state has.
The rules of buying and carrying a certain amount of weed differ from state to state, and some states don't recognize the medical marijuana cards issued in other states.
Thus, you should do all the paperwork to understand whether you can carry your medical weed with proper documentation or whether you will need to buy weed upon arrival. 
The U.S. weed legislation is a patchwork of regulations and laws at the state level, so you might find it hard to clarify what you can or can't do as a state guest.
For instance, although legalizing medical weed use, Florida and New York don't recognize the MMICs of other states and can prosecute state visitors detained with excessive weed amounts.
In Arkansas, you can buy and use weed as an eligible patient, but you should apply for the medical marijuana program one month before the state visit and pay a $50 fee for that privilege. 
Thus, for instance, if you go to San Diego and can use your MMIC and find the best dispensary in San Diego to buy weed instead of taking the risks of carrying it through the border in your bag.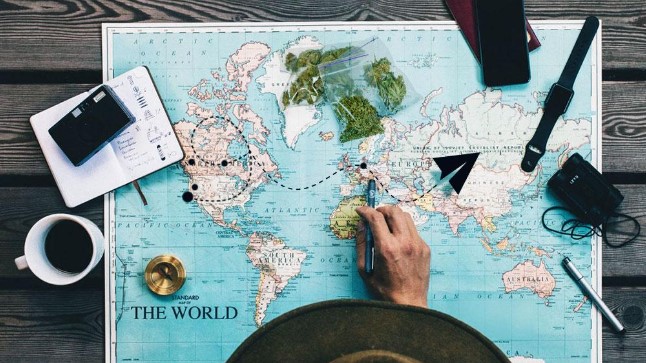 International Travel Rules 
International travel with marijuana gets trickier than domestic trips, as crossing a border with weed in a bag may be challenging.
Besides, many countries have harsh criminal punishments for weed storage and use, as they don't recognize medical weed use altogether.
Thus, we recommend not traveling with weed across the U.S. or Canadian border; even if the state to which you go is loyal to weed and has it legalized, it's much safer to buy yourself some weed upon arrival. 
A Cheat Sheet for a Medical Marijuana User
If you're a regular medical marijuana user, you should keep these rules in mind whenever you plan a travel. Specific regulations apply to every mode of transportation and are mandatory for compliance (you are in big trouble if you're caught violating them). 
Travel by plane

. Carrying weed to the plane with you is illegal. The Transportation Security Organization (TSA) doesn't have an explicit ban on weed, but if a federally restricted drug is found, they may refer you to the local law enforcement agency. Nobody wants to get off the plane because of a small joint, right? 

Car travels

. Having weed in your car is okay unless you smoke while driving. There is a broad set of rules banning the use of weed when driving, as it's regarded as driving under the influence. Thus, you may get into trouble even in weed-loyal states. Please mind that you can't have marijuana in your car if your travel presupposes crossing the territory of a state where weed is illegal; please plan your route accordingly and leave your weed at home if you need to stay in one of such states at least for a part of your trip. 

Train and bus travel

. Each public transportation provider has specific rules for weed transportation and use. Some have explicit bans on weed carrying (e.g., Greyhound and Amtrak), while others don't. So, you can use the following rule of thumb: carrying weed in states where it is illegal is banned; weed in public transportation in loyal states is okay. Still, consuming weed in the open may get you into trouble in any place, so it's better to reserve your joint for a more private place. 

Subway

. All smoking has been banned in the U.S. underground since 1988; carrying weed with you is okay in states where weed is legalized. 

Boat travels

. Having no weed with you during a boat or ferry travel is the safest way to go, as it's very hard to tell in what jurisdiction you are in the open sea. Thus, you may get into unnecessary trouble with the U.S. Coast Guard if they catch you with some weed on board. 
Enjoy Your Trip Safely 
As you can see, travel with weed is a really problematic endeavor, both domestically and internationally.
Thus, it's better to leave your weed stocks at home and take the medical marijuana card with you, hoping that the state or country of your destination has loyal weed purchase policies.
A much safer variant is to google the best dispensaries and purchase rules in advance; this way, you will avoid the frustration and have the remedy with you wherever you stay.