Color Quotes: Here's, we have compiled the best color sayings, color captions for Instagram, color quotes from goodreads, smile and color quotes, design color quotes, colour psychology quotes, brown color quotes, white color quotes, etc.
Color Quotes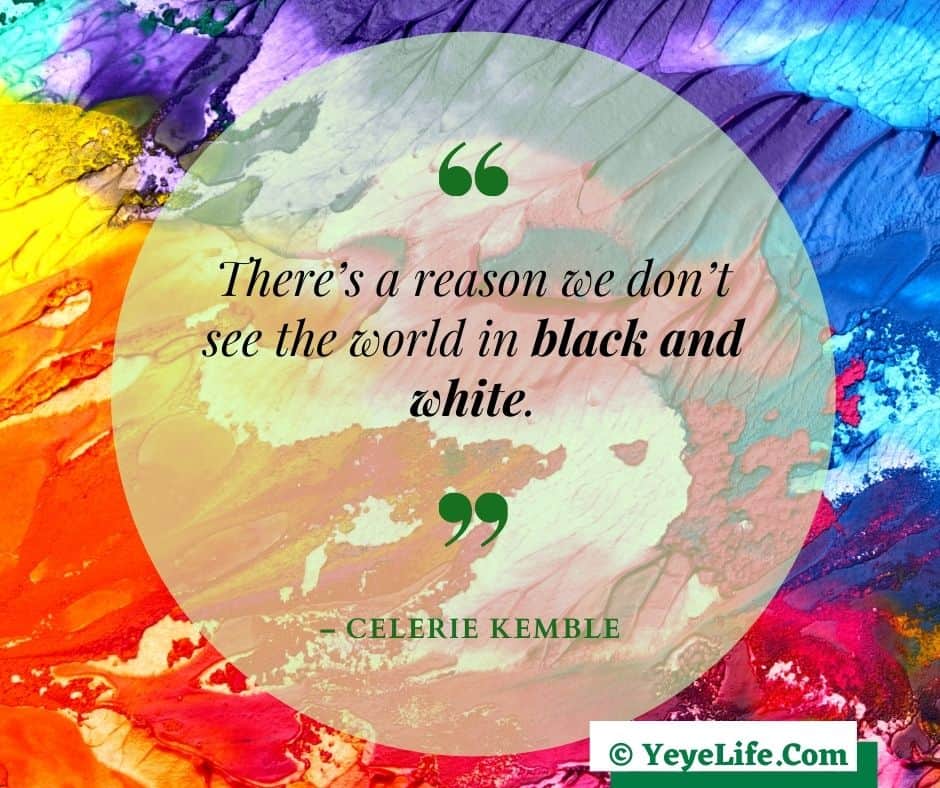 Color is only beautiful when it means something. – Robert Henri
The soul becomes dyed with the color of its thoughts. – Marcus Aurelius
Try to be a rainbow in someone's cloud. – Maya Angelou
In nature, light creates color. In the picture, color creates the light. – Hans Hofmann
Clouds come floating into my life, no longer to carry rain or usher storm, but to add color to my sunset sky. – Rabindranath Tagore
Color does not add a pleasant quality to design – it reinforces it. – Pierre Bonnard
Without black, no color has any depth. But if you mix black with everything, suddenly there's shadow – no, not just shadow, but fullness. You've got to be willing to mix black into your palette if you want to create something that's real. – Amy Grant
Color! What a deep and mysterious language, the language of dreams. – Paul Gauguin
When you photograph people in color, you photograph their clothes. But when you photograph people in Black and white, you photograph their souls! – Ted Grant
Color is my day-long obsession, joy and torment. – Claude Monet
Life is like a rainbow. You need both rain and sun to make its colors appear.
The best color in the whole world is the one that looks good on you. – Coco Chanel
Black and white creates a strange dreamscape that color never can. – Jack Antonoff
Autumn seemed to arrive suddenly that year. The morning of the first September was crisp and golden as an apple. – J.K. Rowling
Color in certain places has the great value of making the outlines and structural planes seem more energetic. – Antoni Gaudi
Color is a power which directly influences the soul. – Wassily Kandinsky
I am a believer that color affects people's moods. – Lilly Pulitzer
I'm like a tree. My leaves might change color, but my roots are the same. – Rose Namajunas
She would be half a planet away, floating in a turquoise sea, dancing by moonlight to flamenco guitar. – Janet Fitch
Coloring outside the lines is a fine art. – Kim Nance
I prefer living in color. – David Hockney
We live in a rainbow of chaos. – Paul Cezanne
I need to see my own beauty and to continue to be reminded that I am enough, that I am worthy of love without effort, that I am beautiful, that the texture of my hair and that the shape of my curves, the size of my lips, the color of my skin, and the feelings that I have are all worthy and okay. – Tracee Ellis Ross
Soon it got dusk, a grapy dusk, a purple dusk over tangerine groves and long melon fields; the sun the color of pressed grapes, slashed with burgundy red, the fields the color of love and Spanish mysteries. – Jack Kerouac
Colors are the smiles of nature. – Leigh Hunt
Pink isn't just a color. It's an attitude! – Miley Cyrus
Green is the prime color of the world, and that from which its loveliness arises. – Pedro Calderon de la Barca
The purest and most thoughtful minds are those which love color the most. – John Ruskin
I think the names of colors are at the edge, between where language fails and where it's at its most powerful. – A.S. Byatt
If everyone would look for that uniqueness, then we would have a very colorful world. – Michael Schenker
Red is such an interesting color to correlate with emotion, because it's on both ends of the spectrum. On one end you have happiness, falling in love, infatuation with someone, passion, all that. On the other end, you've got obsession, jealousy, danger, fear, anger and frustration. – Taylor Swift
Let me, O let me bathe my soul in colors; let me swallow the sunset and drink the rainbow. – Khalil Gibran
After sleeping through a hundred million centuries we have finally opened our eyes on a sumptuous planet, sparkling with color, bountiful with life. Within decades we must close our eyes again. Isn't it a noble, an enlightened way of spending our brief time in the sun, to work at understanding the universe and how we have come to wake up in it? This is how I answer when I am asked—as I am surprisingly often—why I bother to get up in the mornings. – Richard Dawkins
All the other colors are just colors, but purple seems to have a soul? when you look at it, it's looking back at you. – Uniek Swain
With color one obtains an energy that seems to stem from witchcraft. – Henri Matisse
Why do two colors, put one next to the other, sing? – Pablo Picasso
Your attitude is like a box of crayons that color your world. Constantly color your picture gray, and your picture will always be bleak. Try adding some bright colors to the picture by including humor, and your picture begins to lighten up. – Allen Klein
Mere color, unspoiled by meaning, and unallied with definite form, can speak to the soul in a thousand different ways. – Oscar Wilde
The beauty and mystery of this world only emerges through affection, attention, interest and compassion . . . open your eyes wide and actually see this world by attending to its colors, details and irony. – Orhan Pamuk
I have led a pretty colorful life. – Corey Feldman
What color is in a picture, enthusiasm is in life. – Vincent Van Gogh
Try to forget what objects you have before you – a tree, a house, a field, or whatever. Merely think, 'Here is a little square of blue, here an oblong of pink, here a streak of yellow,' and paint it just as it looks to you, the exact color and shape, until it gives you your own impression of the scene before you. – Claude Monet
Music gives color to the air of the moment. – Karl Lagerfeld
Each color lives by its mysterious life. – Wassily Kandinsky
Life is like a box of crayons. Most people are the 8 color boxes, but what you're really looking for are the 64 color boxes with the sharpeners on the back. I fancy myself to be a 64-color box, though I've got a few missing. It's okay though, because I've got some more vibrant colors like periwinkle at my disposal. I have a bit of a problem though in that I can only meet the 8 color boxes. Does anyone else have that problem? I mean there are so many different colors of life, of feeling, of articulation. So, when I meet someone who's an 8-color type… I'm like, hey girl, Magenta! and she's like, oh, you mean purple! and she goes off on her purple thing, and I'm like, no I want Magenta! – John Mayer
Look up, laugh loud, talk big, keep the color in your cheek and the fire in your eye, adorn your person, maintain your health, your beauty and your animal spirits. – William Hazlitt
I don't fancy colors of the face; I'm always attracted to colors of the brain. – Michael Bassey Johnson
Why do two colors, put one next to the other, sing? Can one really explain this? no. Just as one can never learn how to paint. – Pablo Picasso
Colors speak all languages. – Joseph Addison
Blue is the color of peace. Water is blue. I like the color blue because it just puts me at peace. The patriotic symbol is blue. I just like blue. – Antonio Brown
Each day has a color, a smell. – Chitra Banerjee Divakaruni
Colors are brighter when the mind is open. – Adriana Alarcon
Color is my day-long obsession, joy, and torment. – Claude Monet
Yellow's never been a good color for me, but it's actually grown on me. I like it more than I used to! – Ethan Slater
A color is as strong as the impression it creates. – Ivan Albright
Sometimes my quotes may be too colorful. – Earl Butz
There's a reason we don't see the world in black and white. – Celerie Kemble
I have a dream that my four little children will one day live in a nation where they will not be judged by the color of their skin, but by the content of their character. – Martin Luther King, Jr.
Color is the fruit of life. – Guillaume Apollinaire
The world is my canvas and I create my reality.
Color is the least expensive thing to put in a house. – Ruthie Sommers
Be strong, believe in freedom and in God, love yourself, understand your sexuality, have a sense of humor, masturbate, don't judge people by their religion, color or sexual habits, love life and your family. – Madonna Ciccone
The sky is already purple; the first few stars have appeared, suddenly, as if someone had thrown a handful of silver across the edge of the world. – Alice Hoffman
All colors will agree in the dark. – Francis Bacon
Sunset is still my favorite color, and rainbow is second. – Mattie Stepanek
Blue and white forever! – Mark D. Sikes
Well, my favorite color I guess I would say yellow. – Fran Drescher
A dominant color possesses tremendous power in making a painting unique. – Mary Bassi
I'm not an abstractionist. I'm not interested in the relationship of color or form or anything else. I'm interested only in expressing basic human emotions: tragedy, ecstasy, doom, and so on. – Mark Rothko
Color… thinks by itself, independently of the object it clothes. – Charles Baudelaire
Be uniquely you. Stand out. Shine. Be colorful. The world needs your prismatic soul! – Amy Leigh Mercree
The courage to imagine the otherwise is our greatest resource, adding color and suspense to all our life. – Daniel J. Boorstin
Color is a creative element, not a trimming. – Piet Zwart
Life is about using the whole box of crayons. – RuPaul
There should be no discrimination against languages people speak, skin color, or religion. – Malala Yousafzai
I found I could say things with color and shapes that I couldn't say any other way – things I had no words for. – Georgia O'Keeffe
Black and white is abstract; color is not. Looking at a black and white photograph, you are already looking at a strange world. – Joel Steinfeld
Color is an intense experience on its own. – Jim Hodges
To me, beauty and makeup and color is like the finishing touch on everything. – Marc Jacobs
There is such an emotional connection between the bride and her wedding dress, whereas in ready-to-wear you may just be focusing on color or prints for that particular season. – Jenny Packham
Colors express the main psychic functions of man. – Carl Gustav Jung
You choose your friends by their character and your socks by their color. – Gary Oldman
Hair color is just an expression of something different that you want to have, or something creative. – Tina Knowles
Good color really means good taste; and 'powerful' color means a reserve, to give a climax its full force, and not 'red, white, and blue all over. – John F. Carlson
The greatest masterpieces were once only pigments on a palette. – Henry S. Haskins
I am really into color and bright clothing. When I'm wearing heels, I always like to throw some different colors into my outfit, so it doesn't match. That gives my look a retro and funky feel. – Leah LaBelle
Color, rather than shape, is more closely related to emotion. – David Katz
It's my job to accept my youth, to spread my story, to let people know who I am as an individual, because there's so many people who are blinded and think less of me because of my skin color. – Khalid
It almost always happens that true, but exaggerated, coloring is more agreeable than absolute coloring. – Michel Eugene Chevreul
I wear clothes reflecting the color of my soul! – Varg Vikernes
Color should be used to depict the three major emotions in a man's life? Anticipation, realization and retrospection. – Ernest Lawson
Nature always wears the colors of the spirit. – Ralph Waldo Emerson
Being different gives the world color. – Nelsan Ellis
Color is a matter of taste and of sensitivity. – Edouard Manet
Color possesses me. I don't have to pursue it. It will possess me always, I know it. That is the meaning of this happy hour: Color and I are one. I am a painter. – Paul Klee
Pink is not a color – it's a culture to me. – DeAngelo Williams
Color is, on the evidence of language alone, very bound up with the feelings. – Marion Milner
Color is as variable and evanescent in the form of pigment as in visible nature. – Walter J. Phillips
Color is the language of the poets. It is astonishingly lovely. To speak it is a privilege. – Keith Crown
Not only can color, which is under fixed laws, be taught like music, but it is easier to learn than drawing, whose elaborate principles cannot be taught. – Eugene Delacroix
Color is born of the interpenetration of light and dark. – Sam Francis