Just like the diabetes socks made in the USA, Diabetic slippers for swollen feet are not the regular slippers you know.
There are the women's Velcro slippers swollen feet, for instance, specially made for people who feel uncomfortable wearing the regular slippers or shoes.
Therefore, they're not a new thing, and you can easily order one of these from Amazon, Walmart, eBay, and other popular eCommerce sites.
The big idea is to give you access to these slippers whether you're in the U.S. Australia, the UK, and other locations.
What are Diabetic Slippers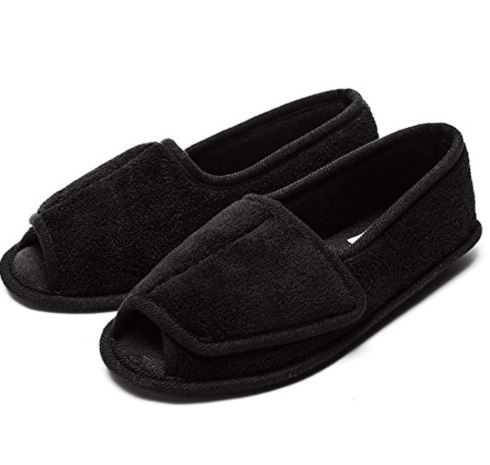 Diabetic slippers are footwears made for people suffering from diabetic neuropathy.
Neuropathy is a medical condition that is associated with diabetes and it causes weakness, pain, numbness of the ankle, feet, or leg.
In the same vein, this condition can be very severe to the point that it leads to amputation and other complications.
Also Read: 10 Effective Ways On How To Make Your Lips Smaller
It may even be difficult for the sore they have on their leg to heal, which could make it challenging to wear regular shoes.
Therefore, people with this medical condition need footwear that will feel comfortable on their legs and enable them to go about their daily routine.
Do Diabetic Shoes Help with Neuropathy?
If you're wondering if diabetic shoes help with neuropathy, they do.
This is because these shoes are to serve as protection for the feet.
They can also reduce the potential for skin breakdown which often occurs as a result of neuropathy, and poor circulation.
What is the Difference Between Diabetic Shoes and Regular shoes?
There are several differences between diabetic shoes and regular shoes, and these disparities have been outlined below.
1. Purpose:
Regular shoes are meant to serve as a protective covering for our feet as it touches the ground.
These shoes have different types of soles to make them suitable for the type of surface it will be used on.
For this reason, there are regular shoes for walking, playing sports, working onsite, going hiking, and so much more.
On the other hand, diabetic shoes have the sole purpose of providing enhanced comfort to the wearer.
These are people that may be facing a healthy challenge and using regular shoes may make things even more difficult.
2. Features:
Diabetic shoes achieve their purpose by having several features. Some of these features include:
a. Protective Interior:
Diabetic shoes have an interior made of soft material.
The stitching of this show does not also protrude in a bid to give comfort and not irritate the skin.
b. Non-binding Upper:
These shoes have non-binding upper parts.
The aim is to ensure that pressure is not imposed on the foot. As such, the shoes can be worn for long hours without feeling like a load on the legs.
c. Toe Box
You find a toe box in most diabetic shoes.
The goal is to provide free toe movement when these shoes are worn.
And therefore, reduce the pressure on the toes.
What kind of shoes are best for residents with diabetes to wear?
You already know that you need to choose shoes specially made for diabetic patients.
However, some are better than others, hence, consider the following when choosing good diabetes shoes:
Choose shoes that soft insoles
Select canvas, leather, or suede styles of shoes that will allow air to circulate properly.
Don not select shoes that are made of plastic material since they do not allow the proper inflow or outflow of air.
Try not to choose shoes that have pointed toes.
Ensure you do not buy shoes that have a sole that is too flat or heels that are too high. Either of these will not allow the foot pressure to distribute uniformly.
Choose diabetic shoes that have buckles, Velcro, or laces. Either of these makes adjusting the shoe easier.
Who Can Wear Diabetics Slippers
Diabetics slippers can be worn by diabetics patients.
These slippers can also be worn by people with swollen feet.
It can be pregnant women or someone that has sustained an injury.
The reason can be tied to the lightweight of these shoes, which makes them comfortable to be worn.
What are the Best Slippers for Diabetics?
Here's a review of some of the best slippers for diabetics on the market. They include:
1. LongBay Women's Furry Memory Foam Diabetic Slippers:
The LongBay Women's Furry Memory Foam Diabetic Slippers features an adjustable strap to make it hug your feet comfortable.
It has 80D memory foam which helps to give you that soft feel as you move across surfaces.
These slippers are ideal for swollen feet and people with diabetes.
In line with that, you get to choose these shoes in different colors including cute pink, light gray, and burgundy red.
2. Men's Diabetic Shoes Swollen Feet Slippers:
There's also the Men's Diabetic Shoes Swollen Feet Slippers, which comes with features that make it a good choice.
Its velcro closures make it easy to be adjusted based on the degree of swelling you may have.
There's also its skid-resistant soles that grip the surface to ensure it's not slippery in the ground.
What you can expect is maximum traction for enhanced security.
Should Diabetics Wear Slippers?
Yes, a diabetic patient can wear slippers that have been specifically designed for patients suffering from this medical condition.
Are Crocs good for swollen feet?
Crocs sandals are good for swollen feet and can be used by pregnant women.
They accomodate your feet as it grows wide during pregnancy and if your soles are aching, the foam footbed of these sandals give you comfort.
Conclusion
Men'sand women's diabetic slippers for feet are essential footwear that will give comfort when worn.
Their lightweight design also means that they can be worn for long hours and to different places.
What's more, these slippers have buckles or Velcro that makes it easy to wear and take them off.
That being the case, choose slippers from the ones we've reviewed above and see how well it helps you manage your condition.
You can also take it one step forward to ask your doctor to make a recommendation on the slippers to settle for.