Planet Fitness total body enhancement has become popular of late due to its potential to alleviate muscle pain, improve the skin, and slow down aging signs.
Despite these benefits, a lot of people still have cold feet when it's time to get body enhancement.
The latter can be tied to the sentiments that it may not work or could pose health concerns depending on your body type.
Nonetheless, we've outlined all you need to know about Planet Fitness total body enhancement and if it's something you should consider trying today or in the near future.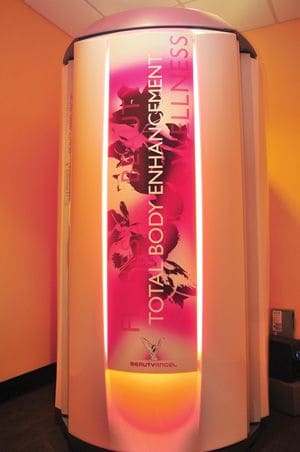 What is Planet Fitness Total Body Enhancement?
Planet Fitness is a gym in the US, and it is frequented by people who want to lose weight and tone their bodies.
But first, you have to register as a member to get access to the gym's free fitness training, exercise equipment, HydroMassage chairs and beds
On the other hand, there is also a red light therapy booth in Planet Fitness.
This red light therapy booth is known as Beauty Angel and its physical look can be compared to a tanning booth.
However, unlike the latter that makes use of ultraviolet lights, the red light therapy booth uses infra-red lights on the whole body.
Over and above that, the brand JK Group built Beauty Angel by taking advantage of the benefits of red light therapy.
The RVT 30 is the most common Beauty Angel model at Planet Fitness – This model operates by using red light therapy and vibration technology.
Should I Do Total Body Enhancement Before or After Workout?
A therapy session in Beauty Angel can be carried out in about 12 minutes before or after your workout.
As such, red light therapy can be done before or after your workout even though some people prefer to do it before a workout so that they can have more energy.
People who choose to do it after a workout have the aim of recovering their lost energy.
Benefits of Total Body Enhancement at Planet Fitness
So, what are the benefits of total body enhancement at Planet Fitness and is it worth the money, to begin with?
Read on to find out!
Planet Fitness' red light therapy machine helps in improving workout routines.
The red light therapy, as well as the vibrating action of the plates, helps in the production of adenosine triphosphate.
Other benefits of this red light therapy include:
1. Pain Reduction:
Infrared light treatments for oral mucositis has shown to bring about pain relief in patients suffering from the condition.
Similarly, pains that are caused by musculoskeletal disorders could be decreased using low-level laser therapy (LLLT).
That being the case, Planet Fitness is a light therapy that can help to alleviate pain.
2. Enhances Wound Healing:
The healing process of the body can speed up using light therapy, and the latter has been proven in several studies.
Light therapy can aid in tissue repair of skin wounds, while at the same time rejuvenate the skin.
It, therefore, follows that the light therapy offered by the Planet Fitness machine can help to reduce inflammation and stimulate healing.
3. Improved Joint Health:
Red light therapy is able to stimulate the production of collagen.
For this reason, some studies are testing the Red light therapy on rheumatoid arthritis patients.
Some studies have shown that red light therapy is very useful in the treatment of rheumatoid arthritis and Achilles tendinitis.
4. Reduces Body Fatigue And Depression:
If you're feeling fatigued or depressed lately, then light therapy might help.
This is because the benefit of light therapy includes its ability to eliminate fatigue and depression.
In this case, the energy within the cells is stimulated, thereby reducing anxiety, improving a person's mood, and resulting in a positive outlook.
5. Reverses Signs Of Aging:
If you want to look younger, it's something red light therapy can help you with.
The reason can be tied to the fact that red light therapy slows down the aging process and could even reverse signs of aging.
Skin that has been damaged by the sun can also lead to faster aging and fine lines and wrinkles.
Nonetheless, light therapy results in thicker collagen fibers and softer, smoother skin with reduced wrinkles.
Side Effects of Light Therapy
The side effects of light therapy are short-term and minor, however, it is still important to be informed about them.
These side effects include:
Customer Reviews of Planet Fitness Total Body Enhancement
At the end of the day, the honest reviews of users who have tried the Planet Fitness total body enhancement is something you can count on.
Despite the company's promotion or claims on websites, these reviews can tell you a lot and what to expect.
Accordingly, users on Quora said the following:
"I'm 44 no wrinkles on face no botox the red light causes glow the vibration plate lymphatic drainage speeds metabolism I have both at home FYI led and power plate I use in am to wake up drug-free. Just do it twice 20 min."
"Yes. I worked at PF and all it does is kinda make you feel happy which I am sure is from the light and rays. It does not help you become fit."
Another user noted that diet and exercise are the major things that can help with a person's health and appearance.
In line with that, a sauna and steam room will make anyone feel better just like the machine.
However, none of these can actually help a person to lose weight.
Conclusion
If you're having a bad day or just want to improve the way you feel, then the Planet Fitness total body enhancement is ideal for you.
Reviews online show that it has helped many to improve their state of mind, which could largely be attributed to red light therapy.
Despite this, the natural way of exercising and eating healthy is the best way to go if you're serious about improving your look and body size.
You'll have the peace of mind that you're not posing potential risks to yourself when you eat healthily and workout often.
Finally, refer to your doctor if you still have any concerns about the Planet Fitness total body enhancement.