Summers are just around the corner, and that means that your kids are going to have summer breaks, and school projects too. Most kids get some big or multiple projects to complete during their summers.
As a parent, you should not only help your kids complete the project in the best manner, but also make sure that you spend some time with them. The aim of a summer project is not to beat every other kid by making your kid's whole project yourself.
The aim is to make the kid learn how to take the necessary steps for completing a project and encouraging them to do it themselves. From research to putting everything together to the presentation, everything requires your kid's attention to detail. They need to come up with relevant ideas, and as a parent, it is your job to ensure that it happens.
[irp]
Summers can be difficult as you have your work and you have the kids at home working on their projects. But you must take out some time from your busy schedule and help your kids with their project.
It is the right time to make them understand the importance of following every step, and how being organized can help them achieve their goals better. Also, it will help you inculcate the values that though winning matters, it is more about the journey and not the results.
Here is how you can help your kids in their summer school project.
1.
Ask Them Questions
Whatever the project is- history, science or math or creative, make sure you keep asking your kids questions. When you question your child, you help them define the important assignment. If they can define the project, they are in a better position to create a project that is best and to answer any questions related to it.
[irp]
So, ask them questions like why do you think that character was so impactful? Or why is this math problem more complex or so on.
2.
Divide Their Work so That They Can Focus
Kids love to multi-task and get things done quickly so that they can go and play or have fun. It can be a bit problematic when it comes to their school project.
Make sure that they don't start working on too many elements of the project at the same time. Ask them to divide the work and focus on one element at a time.
For instance, first, they must focus on research, and then move ahead to gather the things for completing the project and so on.
3.
Set a Schedule
School projects are a good way to teach your kids about organization and time-management. Help them understand the importance of setting up goals and deadlines for achieving them.
[irp]
For instance: give them a week to organize all the things like posters, cut-outs, and so on for the project before moving to the other task. Not only will they have a timeline for their project, but it will also help them learn the importance of organizing, creating goals and meeting deadlines. You can create a weekly schedule to keep it organised.
4.
Assign a Work Area
If the kid has a separate area for their school projects or work, great. If not, make sure to assign one. We know from experience, that when we have a designated area to work, we are more productive.
The same can happen to your child. They can leave their books and projects lying there and work on them without worrying about distractions.
5.
Help With The Work Which They Are Not Able To Do
A school project has many layers, if one of those layers is something that the kid cannot do, do it for them. But make sure you involve them in the whole process and explain to them how it is done.
[irp]
6.
Discuss The Process
Once you complete the project, discuss it with them so that they have a better understanding of what they did.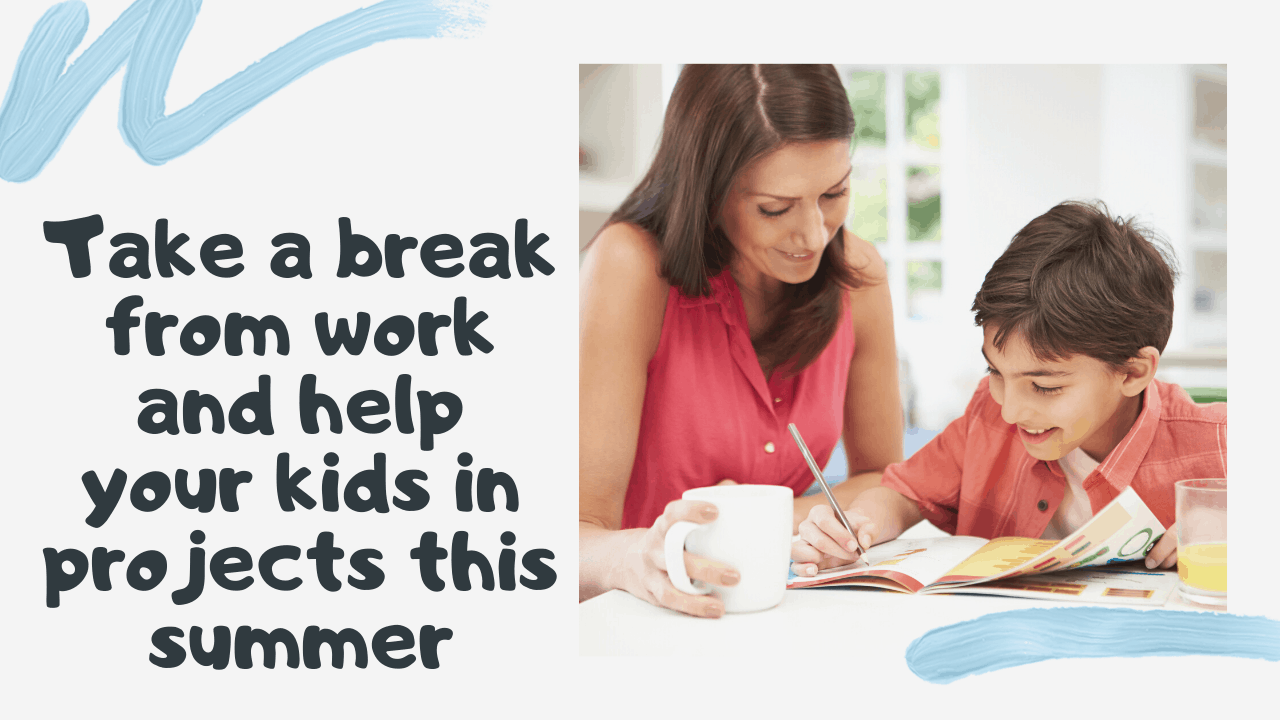 7.
Have Fun
School projects can create pressure and sometimes take the fun element out of assembling things. Don't let it happen for your kid. Have little breaks in between, and make sure to create a fun environment for the kid. The project is also about spending time together, so have fun. You can always check for any available scholarship schemes for your kids.
How do you tackle summers, jobs, and kid's school projects? What message do you wish to send across your kids while helping them with big projects? Tell us in the comments below.