A massage table is a piece of specialized equipment for professional massage therapists and doctors, which is an indispensable tool for an effective and high-quality massage. It is utilized both in salons and at home for therapeutic practices, including therapeutic and relaxing massages.
In this article, we will talk about how to select a portable massage table for sale that will meet the requirements of a specialist for the most effective treatment, as well as provide comfort to clients.
Size
The physique of clients can vary greatly, so it is important to take care in advance about the universal size, which should provide the patient with maximum efficiency and comfort. The classic length is about 190 cm, but some even exceed 2 m. The proper width is as valuable as the length.
Depending on your height and working mode, you should give preference to universal portable massage tables with changeable height parameters.
Allowable load
This parameter includes not only the mass of the client but also the mass that the specialist adds during the procedure. Classic tables are usually quite strong and can withstand loads of up to 250 kg while providing the necessary comfort.
Different sections
There are tables on the market with the number of sections from 1 to 4. Manufacturers of such equipment offer a great variety of options for their products, including various angles of sections, adjustable backrests, and much more, which ensures the comfort and effectiveness of massage sessions.
Multi-section massage tables are more in demand as they allow you to place the patient in the most effective position, but, at the same time, they are more expensive.
Control type
Massage tables are available with two types of control: manual and electric:
The manual type is the most popular as such tables have a lower weight, smaller dimensions, and, accordingly, higher mobility.
The electric type of control is used in stationary and, as a rule, more expensive tables. They are equipped with features such as table height adjustment, various section angles, and other modifications.
Some models are equipped with remote control, which provides additional convenience when using it.
Packing thickness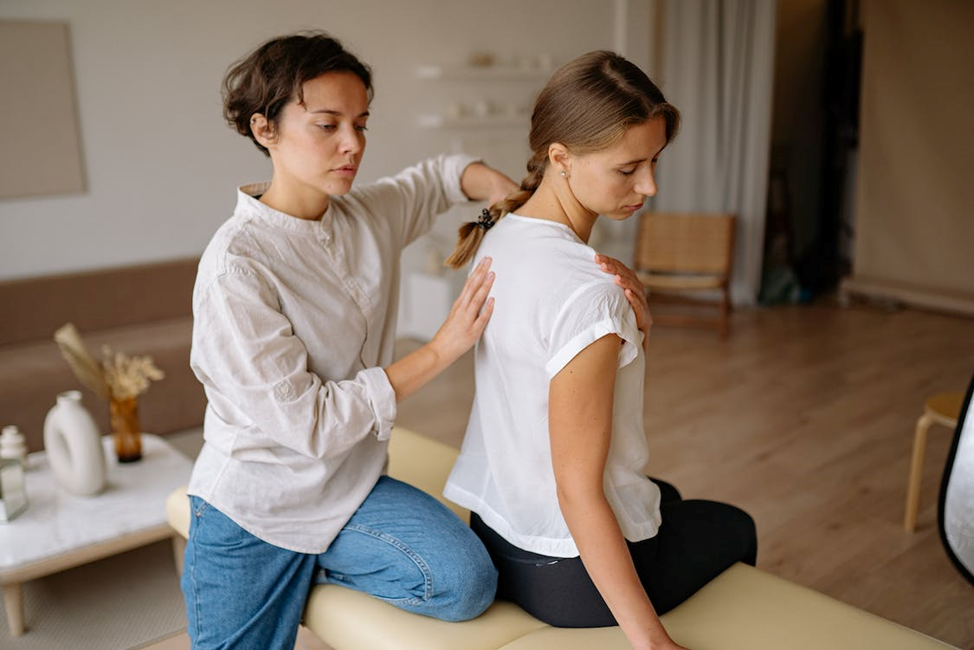 The comfort of the client should be one of the main considerations when choosing equipment. A quality mattress has a huge impact on the impression a client gets after a session. Thick foam mattresses tend to warp less than their regular counterparts and can easily withstand years of heavy use.
Upholstery materials
The most popular material that covers such tables is leather. It is easy to clean and does not absorb moisture with greasy liquids. However, it is also worth noting that it is also a more expensive material, so a variety of substitutes is often used instead. One of the most well-known is PVC leather, as well as polyurethane.
Material of the frame
This part must be of high quality and strength since it bears all the load. The strongest and most durable material is steel, which is why steel-framed tables tend to be more expensive than other options.
A frame made of wood is a beloved and unique classic that is superior in strength to aluminum or plastic materials but is also heavier and less mobile.
Mobility
Mobility is one of the most important characteristics of massage tables, especially for those professionals who conduct massage sessions at clients' homes, travel to exhibitions, seminars, and lectures, or conduct master classes.
Stationary tables have low mobility, unlike portable ones, but have a number of other advantages. Portable tables, in turn, boast high mobility due to their lower weight and the ability to fold to a more compact size.