When choosing career paths, many people often go to the medical or healthcare field for several reasons. For some, pursuing studies in the medical industry means they'll have more job opportunities in the future with higher salaries.
It has been expected that healthcare occupations will grow 13% more, providing two million new healthcare-related jobs within ten years.
Some may also consider a medical career because they love to work with various people. Meanwhile, others want to pursue a career that makes a difference in people's lives.
Regardless of your goal, pursuing a medical career can offer various advantages. However, healthcare careers are not only limited to becoming a nurse or a doctor. Another promising healthcare career you can take is dentistry.
Why Should You Choose Dentistry As A Medical Career Path?
Like the other professions, dentistry is also a vital medical profession, especially since a person's oral health can have a significant impact on their overall health and wellness.
Professionals who graduate from dentistry and earn their license after passing the boards are called dentists, who play a crucial role in the community, maintaining one's oral and dental health.
Before becoming a professional dentist, one must undergo several years of studying and training to learn and master the complexities of oral health.
Thus, if you're considering becoming a dentist in the future, you'll need to apply to a dental school where you can learn all the ins and outs of dental health and oral health-related technologies and procedures.
Furthermore, if you're weighing dental school options, check and compare their offered dentistry programs to see which school best fits your interests.
If you're still skeptical about which medical career to pursue, the following reasons below may help you choose dentistry and why it's a great career choice.   
1. Ultimate Job Satisfaction
Not all careers can offer ultimate job satisfaction. But when you're a dentist, you can become an instrument for improving a person's dental health, relieving them from dental pains, and restoring their self-confidence.
Although you get to witness them during painful times (e.g., tooth extraction), you'll also be the one who'll help treat their dental health to its full potential and help them live a better life.   
With the innovations in the modern era of dental care, it's now easier to cater to your patient's dental needs and improve their general oral health.
From extracting unhealthy teeth, eliminating cavities, and whitening their teeth to giving cosmetic dental procedures, you can perform dental services that will not only satisfy your clients but also feel gratifying on your part.   
2. Secure A High Salary
Perhaps one of the compelling reasons dentistry is a great medical career choice is because it can secure you a high salary. Even if you're still at the early stage of your career, you can already start earning a decent wage.
Generally, the average income salary for dentists may depend on your state, education, and specialty. But according to statistics, the dentist's average income is USD$163,000 per year.
It's also considered one of the highest family incomes in the United States due to the rising demand for dental care.
Remember, the more people are eager to look after their oral health and dental care, the more they'll seek professional dental services, eventually contributing to the growth of demand for dentists.   
3. Pursue Self-Employment
Some people often mistakenly assume that when you're a dentist, you'll only be working as a dentist for a particular hospital or clinic for life.
In reality, you have the opportunity to build an independent career and open up your own business. You may open your dental clinic right after finishing your dental school or after acquiring a few years of experience working as a dentist for other hospitals or dental clinics.   
Once you've established your private dental clinic, you can specify which dental services you can provide, hire your staff, find patients, and decide the number of clients you can see each day.
Ultimately, dentistry can be a great career choice for people planning to become business owners and achieve their independent career goals.   
4. Career Flexibility
You've probably heard healthcare workers (e.g., nurses, caregivers) talk about their hectic careers and how achieving work-life balance is almost possible.
They had to comply with their strict schedules, work around the clock to deal with various patients, and sometimes, they needed to sacrifice their personal lives for their careers.
Thankfully, you don't have to go through that struggle when pursuing dentistry. Since you have the option to open your dental clinic and be your boss, you can control your working hours and make them fit your lifestyle.
If you want, you can also choose to close your dental clinic on weekends so you can have time for your personal life, family, or hobbies.   
5. Job Security And Stability
As mentioned, the demand for dental services is increasingly growing as more people realize the importance of dental health.
It is great news for dentists and people planning to pursue dentistry since it means you won't need to worry about possible job layoffs because the demand for dentists will always be there.   
Furthermore, dentistry isn't only about tooth extraction or teeth whitening. This profession has a wide range of specialties, including periodontists, orthodontists, and endodontists.
You get to choose which area of specialty you feel is most suitable for your interest and skills, and the demand for that profession will still be very high.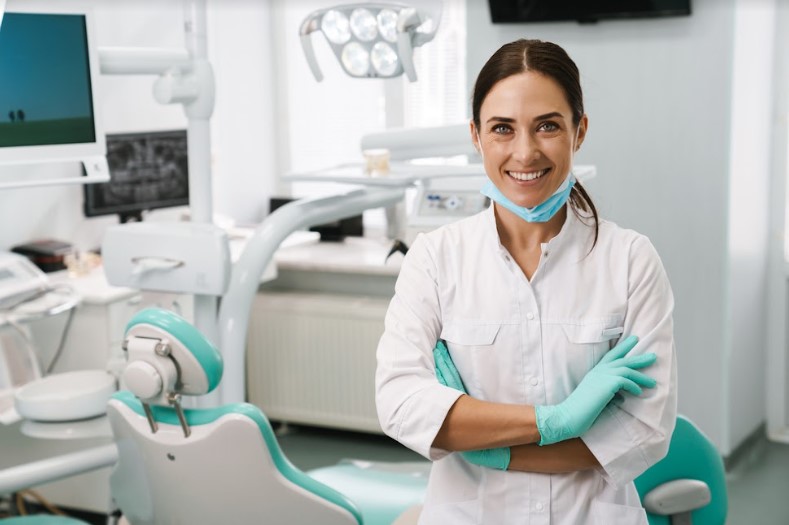 The Bottom Line
Pursuing dentistry as your career path comes with plenty of rewards and benefits. Besides the assurance of a higher salary, better job security, and career flexibility, you can have a rare and fulfilling opportunity to contribute to the community and help people's lives be healthier and better.