Turmeric is a flowering plant, of the ginger family. the roots of which are used in cooking. Turmeric has been used in Asia for thousands of years. Turmeric powder is about 60–70% carbohydrates, 6–13% water, 6–8% protein, 5–10% fat, 3–7% dietary minerals, 3–7% essential oils, 2–7% dietary fibre, and 1–6% curcuminoids.
People have linked turmeric to healing properties and cosmetic benefits. The bright, yellow-orange spice is related to ginger. It's available as a ground spice or in supplements and other beauty and dermatology products.
Turmeric gets its health benefits primarily because of curcumin, a bioactive component. Curcumin has anti-inflammatory and antioxidant properties. It can be used for traditional purposes, as an indicator, as a dye and also for culinary.
Modern scientific research is just beginning to study the positive impact of turmeric, but many believe it has several beneficial uses for the skin.
Turmeric Benefits For Skin
Turmeric and especially its most active compound curcumin have many scientifically-proven health benefits, such as the potential to prevent heart disease, Alzheimer's and cancer. It's a potent anti-inflammatory and antioxidant and may also help improve symptoms of depression and arthritis.
It can heal wounds
It helps fade scars
It can help people with depression
It contains properties that contribute to a natural glow
It can help prevent cancer
It can help your psoriasis.
It can help lower the risk of brain disease
It can help lower the risk of health disease
It may help with acne
It is an anti-inflammatory compound
It increases antioxidant capacity of the body
Some people apply turmeric to the skin for pain, ringworm, sprains and swellings, bruising, leech bites, eye infections, acne, inflammatory skin conditions and skin sores, soreness inside of the mouth, infected wounds, and gum disease.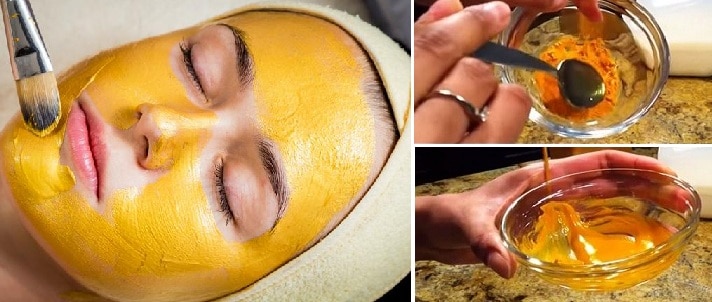 Potential Risk Of Turmeric On Skin
There are risks of using turmeric. When using turmeric, you need to be careful about the dosage, the type of product you use, and how it might react to other medications you take.
It can thin your blood
When applied to the skin, turmeric can temporarily stain the skin or leave a yellow residue. This is normal. But if you're allergic, direct skin contact can cause irritation, redness, and swelling.
It may stimulate contractions
Turmeric has a low bioavailability. This means that your metabolism burns it off quickly and your body doesn't absorb much.
It can upset your stomach
Avoid taking too much turmeric at one time and wait to see how your body reacts before taking more. If you take other medications, discuss the use of turmeric with your doctor.
Turmeric is not only useful on the skin, it has several other benefits as well, check out this other turmeric benefits for your overall well-being.