One a day prenatal 60 or 90 day supply seeks to provide the necessary vitamins during pregnancy, on a daily basis.
These vitamins are essential for a growing baby due to the folic acid amount they contain, as well as calcium, and DHA, biotin, vitamins A, C, D, and E.
It's also worthy to note that there are other brands that future dads can also rely on for pre-conception multivitamin in a bid to support healthy sperm.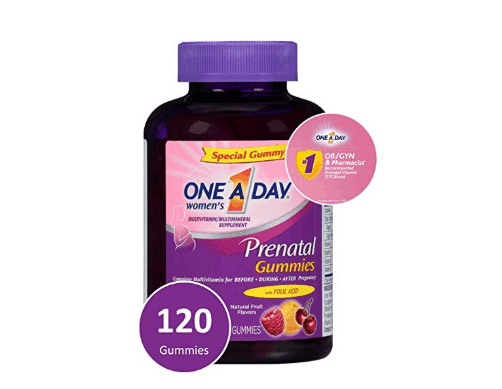 While these vitamins can be gotten from eating healthy meals, it may not be in the right quantity.
As a result, one way to ensure that these vitamins are provided is to fall back on the pills.
Other than providing vitamins, these pills can keep anaemia and tube defects at bay.
Thus, it does not come as a surprise if your doctor recommends it or another, given the health benefits it comes with.
It's even better to know that you can get the One a day prenatal from Walmart, Amazon, and other eCommerce platforms.
On the other hand, we'll be taking a look at the One a day prenatal pros and cons to show you their benefits to the body in supporting the baby's growth and development.
[the_ad id="141976″]
Uses of One a Day Prenatal
One a day prenatal is taken during pregnancy and after childbirth.
It contains fatty acid, multivitamin, and iron and folic acid that prevents vitamin deficiency.
For this reason, it helps to sustain and improve the body's health.
Folic acid, for instance, is useful for women of childbearing age in other to prevent spinal cord defects in the growing child.
How to use One A Day Women's Prenatal DHA
One A Day Women's Prenatal pill is meant to be taken as prescribed by your doctor.
Usually, it is an oral medication, but the prescribed dosage may differ depending on what your doctor prescribes.
The chewable form of this medication is meant to be chewed thoroughly before being swallowed.
On the other hand, there are professional recommendations that the delayed-release form of the One A Day Women's Prenatal is not meant to be chewed or crushed.
Doing either of the above may grind the drugs altogether which could have potential side effects.
There is also the powder form of this medication that can be mixed in water as directed before drinking.
When to Take One A Day Women's Prenatal
One A Day Women's Prenatal is meant to be taken at each time of the day, every day.
It is also meant to be taken an hour or two before or after meals.
Nonetheless, whether you take it with or without water is based on your doctor's prescription.
If he suggests you take the medication with food depending on your state of health, then you're best doing so.
On the other hand, certain things are not to be taken alongside with this medication or two hours before or after it has been taken.
Some of these are tea, coffee, and generally, dairy products such as milk, yoghurt, etc.
[the_ad id="141977″]
Benefits of One a Day Prenatal
There are several prenatal vitamins such as the Garden of Life Vegetarian Prenatal Multivitamin and the same goes for One a Day Prenatal.
The One a Day Prenatal benefits can be attributed to its high vitamin constituent. It, therefore, offers the following:
1. Promotes Hair Growth:
The health benefits of this prenatal vitamins also include its ability to make women's hair longer, shinier, and thicker.
Many have reported of this to be the case even though the aim was to improve their state of health.
This improved hair growth can be linked to its vitamin constituent and as such, you can get great value while taking it.
Thus, just one of the soft gels being swallowed a day can offer great health benefits and it's even better to know that it's only one you need daily.
2. Free of Artificial Sweeteners:
This medication is also free of artificial sweeteners and flavours, but it does not have a bad taste.
It does not also contain dairy and gluten.
[the_ad id="141978″]
One a Day Prenatal Precautions
Like any drug out there, you need to take certain precautions before and while taking the One a Day Prenatal vitamins.
Your doctor will need to know your medical history and if there were any intestinal problems, vitamin B12 deficiency, liver problems, bleeding disorders, or alcohol abuse.
In the same vein, you need to seek the medical expertise of a doctor or pharmacist before taking it most especially if you are allergic to fish or soy/peanut.
These ingredients are active in certain brands and could lead to certain side effects.
On the other hand, an allergic reaction to this medication is rare.
It is, however, worthy to note that people with certain medical conditions are not expected to take this treatment.
Some of these conditions include iron overload disorder such as hemochromatosis and hemosiderosis.
One a Day Prenatal Side Effects
Certain side effects can occur while taking the One a Day Prenatal and these effects can be temporary as your body begins to adjust to the drug.
Some of these side effects include stomach upset, constipation and diarrhoea, or upset stomach may occur.
If you're experiencing any of this, it will wear off with time.
However, if it worsens, it is best to consult your doctor immediately who may decide if you should discontinue depending on how intense the effects are.
Other side effects that can be experienced due to taking this medication include:
Rash
Itching/swelling
Severe dizziness
Trouble breathing
In the end, a physician will make a judgment by weighing the potential benefits with the potential side effects to decide if the latter greatly outweighs the former.
If so, it will not be recommended or discontinued.
[the_ad id="141979″]
Conclusion:
The one a day prenatal DHA reviews shows that these pills or soft gel are beneficial to both the mother and the growing baby.
They are packed with vitamins which helps to support and promote the growth of the fetus.
For this reason, doctors recommended it and so do pharmacist.
However, it is best to get medical advice before taking this medication even though it has health benefits.
Your doctor is in the right position to examine your state of health and medical history to ascertain if you need to take one a day prenatal vitamins.
In the end, you would've ensured the safety of your health and that of your baby.
Now give your doctor a call and book an appointment where they can check your current state of health and determine if the one a day prenatal vitamins are what you need during and after your pregnancy.