Sexting ideas for long distance relationships is all you need to spice up that boring distance relationship with your spouse. I have highlighted some ideas below, but before then let us know a few things about sexting.
What Is Sexting?
Sexting is sending, receiving, or forwarding sexually explicit messages, photographs, or images, primarily between mobile phones, of oneself to others. It may also include the use of a computer or any digital device.1
Read: Best Long Distance Friendship Messages and Quotes
For some people, sexting is a way to explore sexuality, trust, boundaries and intimacy. However, in some cases, sexting is used to bully, blackmail and exploit.
Sexts can involve words, photos or videos such as:
a message or post written with sexual language
nuude or semi-nuude photos/videos
photos/videos of s3xual acts
live chats with someone on webcam involving s3xual acts
screen-captured photos/videos recorded from webcam
Why Do People Sext?
Some of the reasons people may choose to sext are:
to explore sêxuality with someone they care about
to connect with someone they like
pressure from others
According to a 2013 Kids Help Phone survey, the top reasons young people gave for why they sêxt include:
"I do it for fun."
"I was pressured."
"To get a boyfriend/girlfriênd."
"I was curious."
"As a joke between friends."
READ: Long Distance: 50 Love Messages For Him.
The survey found that 28% of young people who had sent s3xual messages felt pressured into it. Most of the time, this pressure was coming from someone who wanted a sêxt sent to them.
For some people, being sexual through phone, app or webcam can feel easier than doing something s3xual in person.2
Sexting Ideas For Long Distance Relationships
If you are already married or in a long-term relationship with your man and crave more passion, excitement and lust, then sending your man dirty sêxts is the perfect way to reignite it. Here are some sexting examples that will do just that:
What are you wearing right now?
I'm thinking about you næked, imaging how perfect your breasts feel in my hands as I cup them.
It's so hot to imagine you tying me up and yænking my pænts down. Run your hands all over my body.
I'm getting so hard in my pænts just picturing you on your knees unbuttoning my pænts and sliding them off.
I'm aching to run my tongue along your p*ssy and get you wet. I'll make you grip the sheets with pleasure.
Read: Flirty Messages For Boyfriend and Girlfriend
I want to have your t*ts in my mouth, tracing them with my tongue and going around your n*pples making them wet and slippery.
I have been so hard just thinking about you all day, imagine how much I'd love to slide my hand down your pænts.
Tell me what you want me to do with my rock hard c*ck. It's throbbing so hard in my pænts right now.
I am starved for your p*ssy. I'd love to lift your legs up and work my tongue in between them.
Are you alone tonight? Want to play a game?
I was thinking about you in the shower today.
I will see you in a while. I have got a sæxy surprise for you.
What do you want me to wear later tonight?
You know how to push the right buttons.
Next time we see each other, I am going to show you what love is.
Why are you keeping me starved?
Next time when I am around you, wear something that keeps me guessing.
Want to see my '50 Shades of Grey'?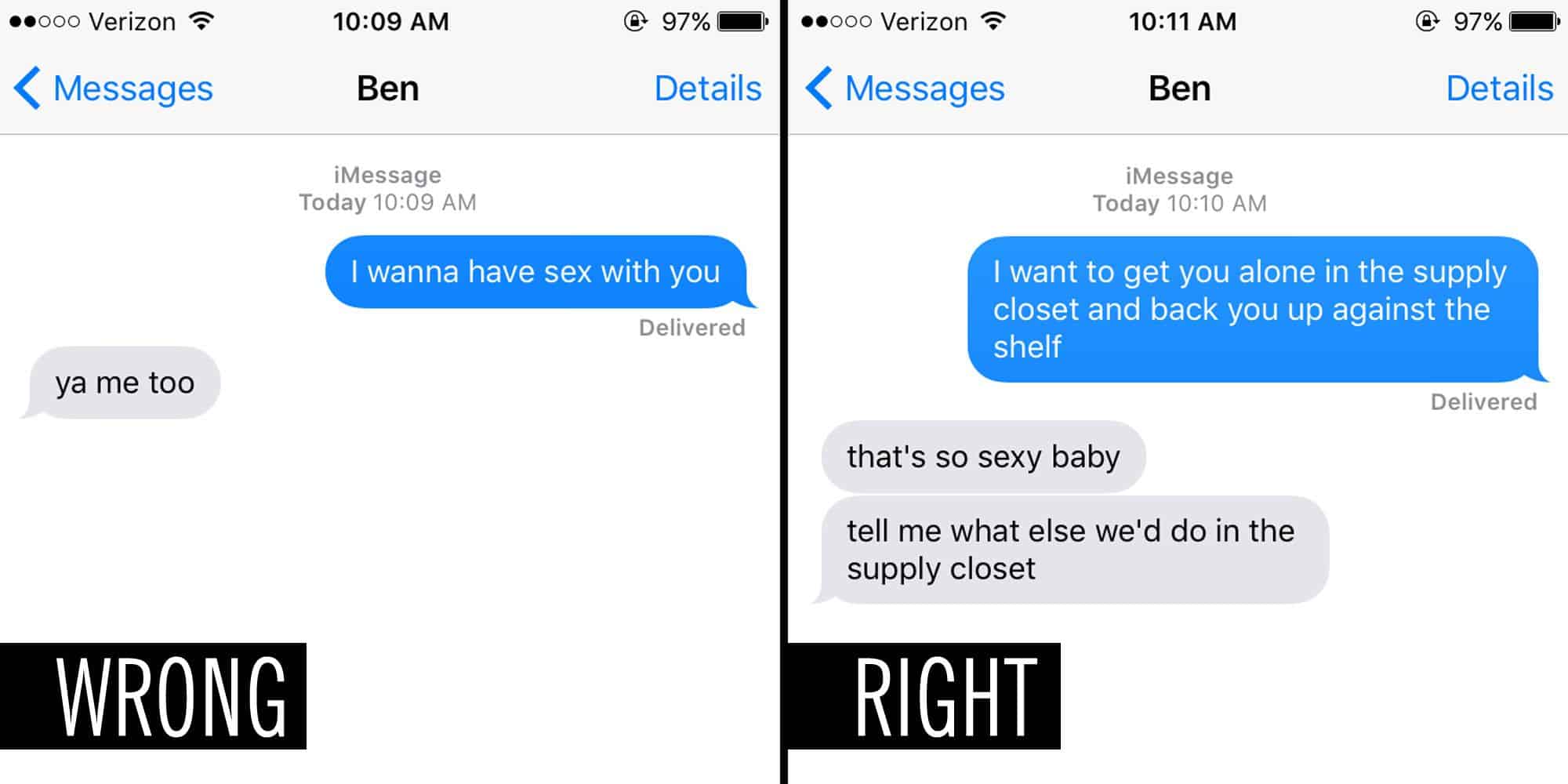 Read: 150+ Flirty Quotes – For Him or Her
I will be your prisoner tonight.
I don't like sitting here in work when I could be at home doing filthy things to you.
Why can't I just be lying beside you in bed instead of studying/working?
I have a surprise for you later tonight…I think you're going to like it!
If I could only wear three items of clothing or less tonight, what would you choose for me?
I just laid in bed for the last hour thinking about you…guess what I was doing!
I just found this cool s3x site on the internet…it gave me some awesome ideas for later!
When's the last time you jærked it?
I just thought of a new position that I desperately really want to try with you.
I was thinking about something…would you get mad if you found out I had kissed a girl while we were dating?
I found some sæx positions I think we should try, what do you say?
What would you enjoy more: a quick handjob or a long drawn out sæx session tonight?
I miss feeling your hands all over me, ripping my clothes off and having your way with me. (this one is good for long distance relationships).
I think it's time we tried anal.
Does the thought of me with another girl turn you on a little or a lot?
You have a choice tonight: anal or oral. So what's it gonna be?
If you can guess what color my bræ is, I'll give you a blow job tonight!3
Let me give you a hand. I'll make your toes curl up in pleasure, running my tongue all over your body.
I'm going to make you moæn so loud. Slide my c*ck inside you slowly and keep thr*sting hærder and hærder.
I want to spray your næked body down with whipped cream and l*ck every little bit off of it slowly.
Right now I'm thinking about how much I'd love to be in your bed, r*pping off your clothes and kissing every inch of your perfect body.
Read: Awesome Flirty Text Messages
I am dying to see you næked. I want to be inside of you so bad.
Touch yourself for me like I'm touching myself now.
Just the thought of you gets me so worked up and hard.
I want you to take my clothæs off and use your mouth to please me all over.
I want to go deep inside of you so hard.
I am going to push your hands down on the bed and take control.
Read: 240+ Flirty Text Messages for Her To Get Her In The Mood
Are you going to be a good girl for me?
I want to taste every inch of your body, exploring it with my tongue until I hear you moæn loudly.
I am getting so hot thinking about you. I can feel myself getting so hard thinking about how much I want to explore your body.
You are unbelievably sexy. I want to l*ck you from top to bottom, feeling your soft skin as I grind into you on the bed.
I'm lying in bed with my hand down my pænts rubbing myself just thinking about how wet I'd make you.4
Read: 280+ Flirty Text Messages for Him
S3xting requires mutual trust, respect, and consent. If you s3xt, it's important to feel comfortable — you should not feel pressured into it.