Dentures are artificial prosthetics used to replace your missing natural teeth. It can either be partial or permanent and can be perfect if you've lost your teeth due to tooth decay or an accident.
With dentures placed in your mouth, you can speak and socialize confidently, decrease bone structure decay, eat any meal you like, and improve your pronunciation.
However, emergencies involving your dentures can happen. In this case, perhaps you have difficulty eating or communicating effectively. But placing or fixing the dentures on your own might be uncomfortable.
You may also experience irritation from the chemicals in the fixing substances, or you could develop a mouth sore which may be painful. With that, it'd help if you visit a specialist who knows how to fix dentures. 
To help you get started, here are seven tips for finding the best emergency denture care specialist:
Ensure They Are Using The Latest Technology
It'd help if the specialist you're working with has the most recent dentures and placement technologies in the market to ensure optimum comfort in your mouth. You could risk feeling awkward if the dentures you receive aren't manufactured with high standards.
The current ones generally come in different styles, comprising permanent implants surgically embedded into the jawbone and flexible dentures made out of smoother material aligning to your mouth's contours, making them easy to put on. 
With that, you can check out dental experts at Dentex or others in your locality who can incorporate cutting-edge technology to design high-quality and perfectly fitting dentures.  
Accessibility Of The Clinic 
Aside from looking for a clinic within your area or neighborhood for accessibility, it's also good to note their operating hours.
Denture emergencies can happen anytime; it may be in the wee hours of the night, and you may not have the strength to wait for the clinic to resume its operations in the morning.
It could also occur during weekends or holidays, wherein most clinics aren't operational. And in such a case, you'd want a place that can offer their services 24/7. 
Ask For Insurance Options 
Some denture care specialists take insurance, which can save you a great deal of money, as you won't have to pay from your pocket. So, during your search, ask if the prospective dentist you'd like to work with accepts insurance payments for the denture fixtures. 
On the other hand, you could also ask your insurance provider for a list of dentists they partner with. You can begin your search for the best emergency denture care specialist based on that list.
Look Out For Other People's Opinions
You're likely not the first patient to consider working with a specific denture specialist. For instance, some people close to you probably have sought such services, such as family members and friends. And so, you could ask them to refer you to a clinic. 
Alternatively, check the denture clinic website for previous customers' reviews. Doing so could give you insights into the type of service you're likely to receive and other service inclusions, such as whether there's routine cleaning and maintenance of the dentures.
This can help you find a trustworthy and dependent specialist with advanced dentures to place on your teeth for that perfect smile. 
Check If They Have Competitive Pricing 
Pricing for denture care generally comprises the dentures and the after-sale service the clinic will provide you while with them.
You could ask for the estimated prices before committing to a clinic and compare the offers from different specialists until you find one that's most beneficial to you. 
Ideally, work with clinics that offer competitive prices so you can get the best services at an affordable price. During your search, you could even come across clinics offering discounts or promos.
Consider Their Credibility
Your teeth are a sensitive part of your mouth and body in general. Thus, it'd help if you worked with a specialist who has made several dentures without complaints from their clients.
As you look for the best emergency denture care specialist, ask to see their certification and assess how long they've been fixing and making dentures.
Check their licensing, too, to ascertain they're allowed to carry out such services. You wouldn't want to have a shoddy job done, which may leave you with sores and excruciating pain. 
Another critical factor to consider when looking for the best denture care specialist is their clinic. You'd want a clinic that's clean, sanitized, and well-maintained.
So, seeing the place where they conduct their services can give you a glimpse of what to expect should you choose them.
For instance, if the place is tidy and welcoming, that could be an indicator that the clinic is in top shape and professional enough to offer denture services.
But aside from that, you'd also want a friendly atmosphere to make you feel at home and less anxious about having your dentures fixed.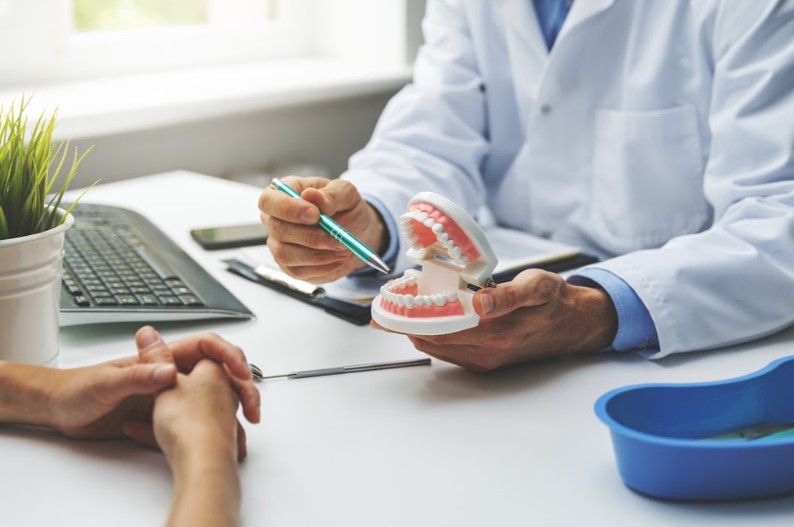 Conclusion 
Dentures are important for numerous reasons. They can help you smile confidently, eat your favorite meals without restrictions, and speak openly.
Thus, it's only essential to find the best emergency denture care specialist who can place the implants effectively at the behest of an emergency.
Working with such reliable experts gives you numerous advantages, such as getting advanced dentures at affordable prices and ensuring optimum comfort.