Family and friends will know you're on a student budget if you're studying at university. They won't expect expensive gifts and the best gift your family will probably get is you coming home for the holidays. 
Inexpensive but thoughtfully considered gifts are often appreciated more than hastily bought extravagant gifts. They show you've spent time, energy, and thought on what to give. Here are some ideas for the type of Christmas gifts that will bring delight to relatives and friends. 
A Batch of Freshly Baked Goodies
Freshly baked goodies are treats that are always welcome at Christmas, particularly if they come in a personalized tin or jar. You can even put them in a baggie and seal it with a beautiful bow. 
Family or friends will be delighted that you took the time to bake for them and if you know their preferences, you can make what they will enjoy most. Fudge, Turkish delight, salted chocolate caramel spread, biscotti, brownies and many other treats will always go down well. 
An Accessory for a Larger Gift
Keeping an eye on what other family members are buying can offer a useful suggestion. For example, if your parents buy a tent for your brother, you could buy a piece of camping equipment, like a collapsible bucket which will cost under $10. 
If your father is buying your mother a new cell phone, you could buy her a matching cell phone case which is another inexpensive gift.
This is a thoughtful way of giving something you know will be useful and contribute to the excitement of getting the larger gift. Just make sure you give your gift after the larger one is given!
writing Service for Students
The Christmas holidays are so exciting for students and looking for gifts can make writing assignments take a back seat.
Students who find they need writing help can make use of online writing services to help them with essay assignments, a thesis or dissertation or even use a custom annotated bibliography writing service by EduBirdie.
The site offers many other handy tools for students in addition to its premium writing service.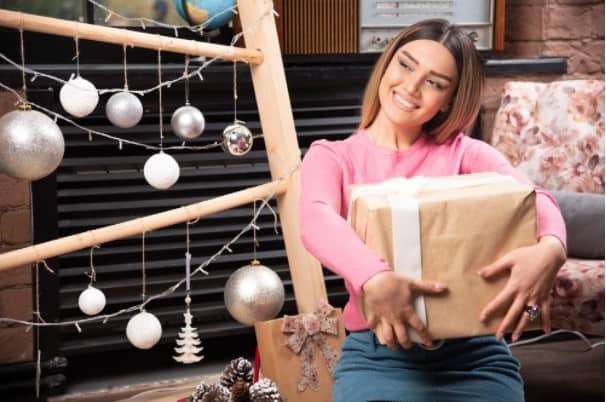 A Homeware Gift
A homeware gift means you can buy a gift for a couple that will please them both. It helps to keep the home color scheme of the recipients in mind and if you know them really well, you can buy an item you know they will love and that fits with their decor. 
An eye-catching vase, patterned throw, or an exquisite bowl maybe a little more on the expensive side but as you only have to buy one gift, you can afford to spend more on it. If you can't afford items like this, you could always opt for a beautiful indoor plant from Homescapes.
Pamper Gifts
It is worth keeping an eye out for deals on websites like Groupon for an experience like a spa day for a fraction of the retail price. If you do opt for a deal like this, make sure you read the fine print.
You could also gift a person with a back and neck massager, foot massager, or any other gift that pampers them in some way and helps them to feel more relaxed and stress-free. 
You may want to ask family to give you money for Christmas instead of buying you pamper gifts. If they do, you need to think about suitable ways to invest Christmas money you receive. 
Find a Thoughtful Gift For The Whole Family
A gift like this should be one your whole family will enjoy doing together over the Christmas holidays. This could be a board game you can all play or a snack box filled with sweet, savory and salty snacks you can all enjoy. 
Buying a set of conversation starters is not an expensive gift and it can provoke all kinds of thoughtful, silly or hilarious conversations. If your budget is really limited, you could even make your own set. 
Another idea for a very inexpensive gift is a family bucket list in a tin filled with sticks with activities printed on the sticks. The sticks are marked with the date completed on the back. 
Conclusion
Gift options are almost endless, even on a limited student budget. It can be challenging to wade through all the options, which is why the above suggestions can help to give you some direction.
Brighten up Christmas day by choosing thoughtful, practical gifts that won't just lie in a drawer, even if you don't have that much money to spend. Sticking to a student budget will just force you to be more creative. 
---
Author's Bio 
James Collins is a professional writer who crafts essays and blogs that his audience simply falls in love with. He turns into a genie when he's at his writing desk and words flow seamlessly when he knows he has to deliver superb quality work to students who trust him for his writing abilities.