Here's a review of the Gourmia air fryer and what makes it stand out from other appliances out there.
A number of people have wondered if Gourmia is a good brand or its air fryers are worth buying.
Nonetheless, this review will give you a good idea about what you're working with. And if this air fryer can meet your need for tasty, crunchy foods every time.
What Are Air Fryers?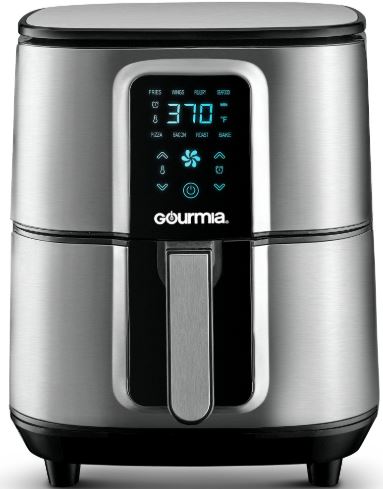 Air fryers are appliances that are used to cook food with little or no oil.
These foods are air fried, and you can think of it as an alternative to making fried foods without soaking it in hot oil.
Just place your food in the air fryer's basket, turn on the unit, and give it a couple of minutes and your food will be ready.
Also Read: Gowise Air Fryer Review and Recipes
Therefore, air fryers help you cook with 70% less oil, unlike appliances like a deep fryer.
And if you're wondering how this operation is made possible, these units circulate hot air around your food.
As such, the food is crispy on the outside and tender on the inside.
Are Air Air Fryers Healthy?
The way you use an air fryer can make it healthy or unhealthy. We'll take a closer look at each of these.
Fewer Calories Consume:
Using an air fryer helps you consume fewer calories each time you eat fried foods.
For instance, you'll be cooking food with less oil, and as such, you do not consume too many calories.
This means that even if you're on a strict diet or looking to lose weight, you can still eat fried foods without any guilt.
However, you'll be still consuming too many calories if you're always having fried foods.
The point is, using an air fryer does not mean you should have fried foods more often.
Rather, you should eat them in moderation to gain the full benefits offered by an appliance.
Not Over-cooking Food
Another healthy way of using an air fryer is not to overcook your food.
Overcooked food has been linked to cancer and other diseases.
For this reason, turn off the air fryer once your food is done. Don't leave the food to overcook for another minute.
What Can I Make with the  Gourmia Air Fryer
There are different foods you can make with the Gourmia air fryer.
Some list of things you can cook include chicken wings, pizza, French fries, pastry, bourbon Pecan brownies, onion-wrapped bacon rings, banana leaf fish, roasted baby carrots, cake, and so much more.
With the help of air fryer recipes, other foods you can prepare with the Gourmia air fryer are:
Churro Bites
Mini Calzones
Mozzarella Sticks
Sweet Potato Chips
Chocolate Chip Cookies
Buttermilk Fried Chicken
Salmon and Brussels Sprouts
Roasted Baby Carrots with Puffed Grains and Yogurt
You can also fall back on the Gourmia air fryer instruction book to check what other foods you can make and even the best way to use this appliance.
Is Gourmia a Good Brand?
Here's the part you've been waiting for, and it'll best be answered if we review some of the best Gourmia air fryers out there.
Accordingly, give the following air fryers your consideration:
1. Gourmia 6-Qt. Stainless Steel Digital Air Fryer:
The Gourmia 6-Qt. Stainless Steel Digital Air Fryer has a capacity of a 6-Qt, which is large enough to cook for a big family.
This large capacity helps it to hold more food at a time, hence you don't have to cook in tiny bits.
Moreover, it speeds up your cooking process if you have to cook for a small party.
What's more, this unit has a stainless steel design to enhance its durability.
Its coating will tend not to stick to your food since its interior is also made of stainless steel.
The versatile use of this unit means you can make fish, fries, chicken, meat, and other dishes.
Your ability to do so can also be tied to the 8 cooking presets that have been built into this unit.
The Gourmia 6-Qt. Stainless Steel Digital Air Fryer price is $99.88,
Consequently, you get an air fryer under $100, thereby saving money that would've been spent on an expensive unit.
2. Gourmia GTF7355 12-in-1 Multi-function Digital Air Fryer Oven:
The Gourmia GTF7355 12-in-1 Multi-function Digital Air Fryer Oven gives a lot away from its name.
For starters, it has 12 functions in a single unit, thereby increasing the types of foods you can make with this appliance.
These cooking functions include Air-Fry, bake, toast, roast, dehydrate, etc.
And you may also come to appreciate its large capacity that can hold a 12″ pizza or about 6 slices of toast at a time. 
That being said, larger-sized portions are what you'll be able to make with this unit, thereby reducing how much time you spend cooking.
Lest we forget, this is a dishwasher safe unit given that parts like its crumb tray, baking tray, basket, and oven rack can be washed with a dishwasher.
The Gourmia GTF7355 12-in-1 Multi-function Digital Air Fryer Oven price is around $79.99.
3. Gourmia oven968 Air Fryer Oven, 4.5 Qt, Digital:
The Gourmia oven968 Air Fryer Oven, 4.5 Qt, Digital is the smallest variant of the trio given that it has a capacity of 4.5 Qt.
Hence, if you want an air fryer that cooks for two people, this would be it.
There are 8 cooking presets including broil, bake, grill, air fry, etc. each of which cooks your food without oil.
You also have the full control to regulate the cooking temperature of this unit and set its timer for up to 30 minutes.
The price of the Gourmia oven968 Air Fryer oven is around $100.
Conclusion
The Gourmia air fryers are good appliances you can use to make different types of food.
You can air fry, bake, grill, toast, roast, and so much more.
Therefore, this is a multi-cooker that saves you from buying different units.
Just get one of these and you'll be able to eat fried foods more healthy.
However, the way you use any of these units to cook will determine if you're consuming the recommended calories or in excess.
Asides from Gourmia, other brands you may want to check out include the NuWave, GoWise, Cuisinart, Ninja, and so much more.