The GoWISE air fryers are some of the best units on the market.
For starters, GoWISE is a reputable brand and a household name.
The company has air fryers in different price segments and a range of sizes.
Therefore, you can choose the best GoWISE air fryer based on price, features, and size.
In the end, the unit you settle for should be one that gives you the best value for your money.
What is an Air Fryer?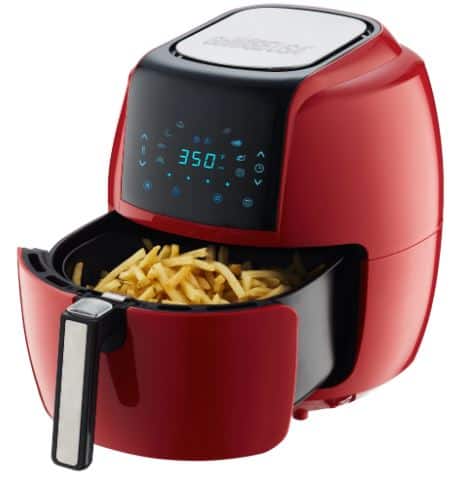 Air fryers are appliances that are used to air fry, bake, grill, roast, toast, rotisserie. dehydrate, and carryout other cooking functions.
These are convection ovens that surround food with hot air, thereby allowing the food to cook evenly.
Consequently, air fryers can cook without oil, and you'll still get meals that are crispy and crunchy.
The fact that they cook with little or no oil makes them ideal units for anyone looking to eat more healthily.
Best GoWise Air Fryers
Here's a review of the best GoWise Air fryers you can buy
1. GoWISE USA GW22731 1700-Watt 5.8-QT 8-in-1 Digital Air Fryer:
The GoWISE USA GW22731 1700-Watt 5.8-QT 8-in-1 Digital Air Fryer is a large capacity unit that supports cooking for a big family.
It can be used to make fried chicken, French fries, steak, and pizza.
The reason can be tied to the ability to bake, fry, roast, and grill using this appliance.
Coupled with that, you get 8 cooking presets and these are Fries/Chips, Pork, Chicken, Fish, Shrimp, Steak, Cake, and Pizza.
The cooking temperature of this unit ranges between 180 degrees Fahrenheit to 400 degrees Fahrenheit.
Consequently, you get to determine how hot your food cooks and even set the cooking timer up to 30 minutes.
And if you're looking for a PFOA free air fryer, here's one you can settle for.
The GoWISE recipe book also has 50 recipes to help you make different types of foods with your unit.
2. GoWISE USA GW22956 7-Quart Electric Air Fryer with Dehydrator:
The GoWISE USA GW22956 7-Quart Electric Air Fryer with Dehydrator also features a large capacity to enable you to cook large food portions at a time.
It can cook food for the whole family, or even for a small party.
Specifically, its basket can hold 4-5 burgers or a full chicken.
You also get to make things like chicken legs, beef jerky, meatloaf,  and chicken nuggets.
Over and above that, this is an air fryer with different cooking presets and some of these are air fry, broil, dehydrate, roast, grill, reheat, bake, and keep warm.
Therefore, you can cook with it, or preserve the warmth of your food.
3. GoWISE USA 3.7-Quart Programmable Air Fryer:
The GoWISE USA 3.7-Quart Programmable Air Fryer is moderately sized.
As such, if you're out to get a portable air fryer you can travel with, it'll be a great choice.
You can also use this unit in your dorm or RV, and it won't take as much space on the counter.
There are also 8 cooking presets on this unit and these presets include warm, fries/chips, chicken, steak, shrimp, pork, cake, and fish.
The cooking temperature of this unit ranges between 170F to 400F and its timer can be set between 1-30 minutes.
Over and above that, you get to choose from a list of recipes to make your next breakfast, lunch, dinner, or dessert using the GoWISE USA Air Fryer.
Gowise Unit's Common Problems
If your Gowise air fryer will not turn on, there is a list of things you can do to get the unit working properly.
Try the following:
Check if the unit has been properly connected to the power source.
Check if the wall socket has electrical power, to begin with
Check that there is no breakage on the air fryer's cord
Let a technician examine the unit to check if there are power issues in the internal components of the unit.
Other common issues that have been reported are the GoWise air fryer not heating, not turning on, or the unit's fan not working.
If you experience any of these, you can let an experienced technician check your unit or send it back to the manufacturer if the warranty still covers its repair or replacement.
And if your GoWise air fryer makes a loud noise, it could be that there's an internal issue with the unit and it needs to be checked immediately.
Conclusion
These are some of the best GoWISE air fryers you can try if you're out to satisfy your cravings of healthy fried foods.
These units have a high rating, and you can trust the user reviews and recommendations from hundreds of users of these units.
What's even more important, is the range of foods you can prepare using these units.
Whether it's to bake, grill, roast, air fry, and as with several other operations, it is entirely possible.