Grief Quotes: On this page, we have compiled some Heartfelt grieving quotes, Quotes about grief on the loss of a loved one, like mom, dad, husband, baby, best friend, or on losing a pet like dog or cat. These quotes are curated from various sources and famous authors like CS Lewis, Anne Frank, etc. We hope something here resonates with you and feel free to share any of these grief quotes and Images with your grieving family and friends.
Grief Quotes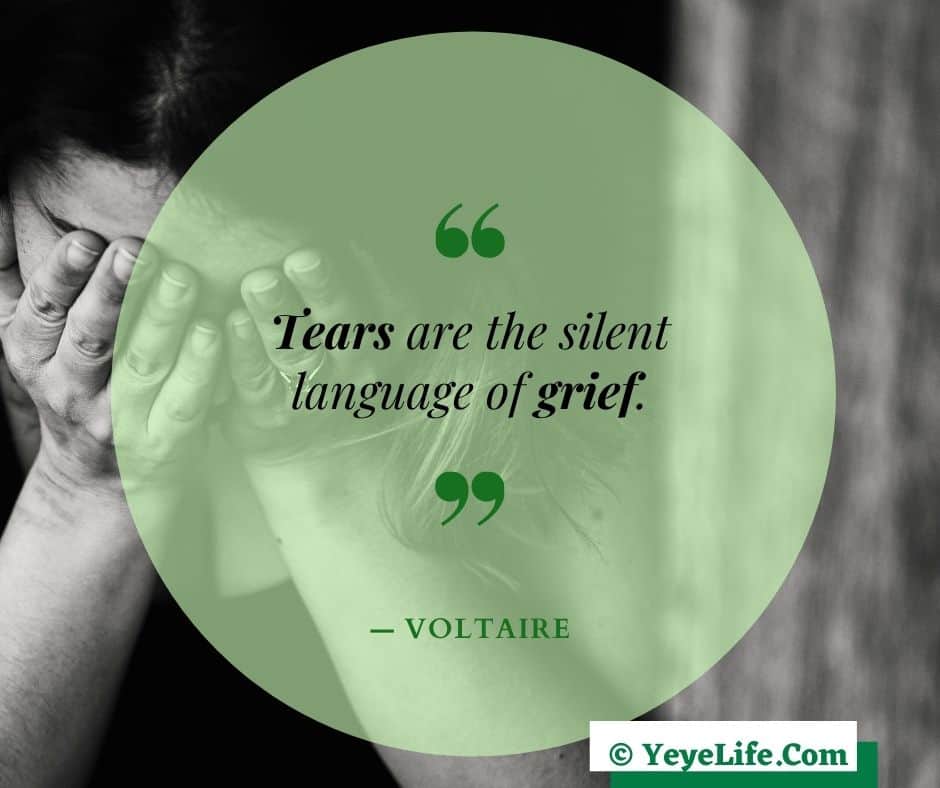 If I can see pain in your eyes then share with me your tears. If I can see joy in your eyes then share with me your smile. — Santosh Kalwar
Joy comes, grief goes, we know not how. — James Russell Lowell
Grief is the price we pay for love. — Queen Elizabeth II
Everyone can master a grief but he that has it. —William Shakespeare
When grief is deepest, words are fewest. — Ann Voskamp
The risk of love is loss, and the price of loss is grief — But the pain of grief is only a shadow when compared with the pain of never risking love. — Hilary Stanton Zunin
I believe that imagination is stronger than knowledge. That myth is more potent than history. That dreams are more powerful than facts. That hope always triumphs over experience. That laughter is the only cure for grief. And I believe that love is stronger than death. — Robert Fulghum
I don't think of all the misery, but of all the beauty that remains. – Anne Frank
Grief only exists where love lived first. – Franchesca Cox
Grief is never something you get over. You don't wake up one morning and say, 'I've conquered that; now I'm moving on.' It's something that walks beside you every day. And if you can learn how to manage it and honour the person that you miss, you can take something that is incredibly sad and have some form of positivity. — Terri Irwin
We need to grieve the ones we have loved and lost in this lifetime — not to sustain our connection to suffering, but to sustain our connection to love. — J. W.
We need to grieve the ones we've lost — not to sustain our connection to suffering, but to sustain our connection to love. – Jennifer Williamson
It would be impossible to estimate how much time and energy we invest in trying to fix, change and deny our emotions – especially the ones that shake us at our very core, like hurt, jealousy, loneliness, shame, rage and grief. — Debbie Ford
To live in hearts we leave behind is not to die. — Thomas Campbell
Grief is the price we pay for love. – Queen Elizabeth II
There is a sacredness in tears. They are not the mark of weakness, but of power. They speak more eloquently than ten thousand tongues. They are the messengers of overwhelming grief, of deep contrition, and of unspeakable love. — Washington Irving
Grief is like the ocean; it comes on waves ebbing and flowing. Sometimes the water is calm, and sometimes it is overwhelming. All we can do is learn to swim. — Vicki Harrison
Grief opens a place in our hearts that we never knew could hurt so profoundly, but it also opens this same place to a love we never imagined possible – Unknown
Your grief path is yours alone, and no one else can walk it, and no one else can understand it. — Terri Irwin
What we have once enjoyed deeply we can never lose. All that we love deeply becomes a part of us. — Helen Keller
Grief is a matter of the heart and soul. Grieve your loss, allow it in, and spend time with it. Suffering is the optional part. Love never dies, and spirit knows no loss. Keep in mind that a broken heart is an open heart. – Louise Hay & David Kessler, You Can Heal Your Heart
I think faith is incredibly important because you will become overwhelmed with what's happening and you will have waves of grief, but when you turn to your faith, I believe God will give you waves of grace to get through it. — Joel Osteen
When we lose someone we love we must learn not to live without them, but to live with the love they left behind. — Anonymous
Grief is so human, and it hits everyone at one point or another, at least, in their lives. If you love, you will grieve, and that's just given. – Kay Redfield Jamison
The friend who can be silent with us in a moment of despair or confusion, who can stay with us in an hour of grief and bereavement, who can tolerate not knowing… not healing, not curing… that is a friend who cares. — Henri Nouwen
Never. We never lose our loved ones. They accompany us; they don't disappear from our lives. We are merely in different rooms. — Paulo Coelho
Grief is no more necessary when we understand death than fear is necessary when we understand flying. – Richard Bach
Do not brood over your past mistakes and failures as this will only fill your mind with grief, regret and depression. Do not repeat them in the future. — Swami Sivananda
Grief can be the garden of compassion. If you keep your heart open through everything, your pain can become your greatest ally in your life's search for love and wisdom. — Rumi
Grief I've learned is just love. It's all the love you want to give but cannot. All of that unspent love gathers up in the corners of your eyes, the lump in your throat, and in that hollow part of your chest. Grief is just love with no place to go. —Anonymous
I learned that, with grief, you have to take it one day at a time and learn how to find the happiness amid the heartbreak. — Adrienne C. Moore
Loss is nothing else but change, and change is Nature's delight. — Marcus Aurelius
I come into the peace of wild things who do not tax their lives with forethought of grief… For a time I rest in the grace of the world, and am free. — Wendell Berry
While grief is fresh, every attempt to divert only irritates. You must wait till it be digested, and then amusement will dissipate the remains of it. —Samuel Johnson
Grief can take care if itself, but to get the full value of a joy you must have somebody to divide it with. — Mark Twain
We must embrace pain and burn it as fuel for our journey. — Kenji Miyazawa
Tears are the silent language of grief. — Voltaire
Denial helps us to pace our feelings of grief. There is a grace in denial. It is nature's way of letting in only as much as we can handle. — Elisabeth Kubler-Ross
The pain passes, but the beauty remains. — Pierre Auguste Renoir
How lucky I am to have something that makes saying goodbye so hard. —Winnie the Pooh
Happiness is beneficial for the body, but it is grief that develops the powers of the mind. — Marcel Proust
I should know enough about loss to realize that you never really stop missing someone-you just learn to live around the huge gaping hole of their absence. — Alyson Noel
There is no grief like the grief that does not speak. —Henry Wordsworth
People in grief need someone to walk with them without judging them. — Gail Sheehy
To have been loved so deeply, even though the person who loved us is gone, will give us some protection forever.— J.K. Rowling
Only people who are capable of loving strongly can also suffer great sorrow, but this same necessity of loving serves to counteract their grief and heals them. —Leo Tolstoy
Grief is a process, not a state. — Anne Grant
It's OK to feel sad sometimes. Little by little, you'll feel better again. — Anonymous
Grief is in two parts. The first is loss. The second is the remaking of life. — Anne Roiphe
Some things in life cannot be fixed. They can only be carried. — Megan Devine
Grief and memory go together. After someone dies, that's what you're left with. And the memories are so slippery yet so rich.— Mike Mills
Grief is the agony of an instant; the indulgence of grief the blunder of a life. — Benjamin Disraeli
I will not say: do not weep; for not all tears are an evil. — J.R.R. Tolkien
Can I see another's woe, and not be in sorrow too? Can I see another's grief, and not seek for kind relief?— William Blake
In grief, after even the happiest of relationships, we go over things again and again. — Laurie Graham
Don't grieve. Anything you lose comes round in another form. — Rumi
Grief doesn't have a plot. It isn't smooth. There is no beginning and middle and end.— Ann Hood
Grief can't be shared. Everyone carries it alone. His own burden in his own way. — Anne Morrow Lindbergh
Tears shed for another person are not a sign of weakness. They are a sign of a pure heart. — José N. Harris
Every night when I go to bed, I hope that I may never wake again, and every morning renews my grief.— Franz Schuber
Grief can be a burden, but also an anchor. You get used to the weight, how it holds you in place. — Sarah Dessen
No matter how bad your heart is broken, the world doesn't stop for your grief. — Faraaz Kazi
Acceptance is not about liking a situation. It is about acknowledging all that has been lost and learning to live with that loss. — Elisabeth Kubler-Ross and David Kessler
It's a hard thing to imagine how somebody copes with grief and at the same time has to build a new life.— Caitriona Balfe
How long will you grieve? How long will they be dead? — David Kessler
There is a kind of euphoria of grief, a degree of madness.— Nigella Lawson
There's nothing that symbolizes loss or grief more than a mother losing a child.— David LaChapelle
Poetry is emotion, passion, love, grief – everything that is human. It is not for zombies by zombies.— F. Sionil Jose
It takes strength to make your way through grief, to grab hold of life and let it pull you forward. — Patti Davis
Excess of grief for the dead is madness; for it is an injury to the living, and the dead know it not. — Xenophon
Against eternal injustice, man must assert justice, and to protest against the universe of grief, he must create happiness. — Albert Camus
Loss can remind us that life itself is a gift. — Louise Hay and David Kessler
They say time heals all wounds, but that presumes the source of the grief is finite ― Cassandra Clare
No one ever told me that grief felt so like fear. ― C.S. Lewis
Only people who are capable of loving strongly can also suffer great sorrow, but this same necessity of loving serves to counteract their grief and heals them. ― Leo Tolstoy
So it's true, when all is said and done, grief is the price we pay for love. ― E.A. Bucchianeri
Grief is not as heavy as guilt, but it takes more away from you. ― Veronica Roth
To weep is to make less the depth of grief. ― William Shakespeare
Give sorrow words; the grief that does not speak knits up the o-er wrought heart and bids it break. ― William Shakespeare
Grief can be a burden, but also an anchor. You get used to the weight, how it holds you in place. ― Sarah Dessen
And I can't be running back and fourth forever between grief and high delight. ― J.D. Salinger
But grief makes a monster out of us sometimes . . . and sometimes you say and do things to the people you love that you can't forgive yourself for. ― Melina Marchetta
Youth offers the promise of happiness, but life offers the realities of grief. ― Nicholas Sparks
The trauma said, 'Don't write these poems. Nobody wants to hear you cry about the grief inside your bones. ― Andrea Gibson
Life is full of grief, to exactly the degree we allow ourselves to love other people.― Orson Scott Card