Friuts that are low in carbs are really good for our health.
But firstly, what are carbs? Carbs is a short form for carbohydrate, and carbohydrates are the sugars, starches and fibers found in fruits, grains, vegetables and milk products. They are the body's main source of energy. They are called carbohydrates because, at the chemical level, they contain the compounds carbon, hydrogen and oxygen.
When we say a fruit or vegetable is low in carbs, it means that the carbohydrate present in these fruits or vegetables are in minute quantity.
Advantages Of Low In Carbs Fruits and Veggies
Below are the major advantages of low in carbs fruits and veggies.
• Low-Carb Diets Reduce Your Appetite
• Low-Carb Diets Lead to More Weight Loss at First
• Reduced Blood Sugar and Insulin Levels
• May Lower Blood Pressure
• Acts as therapeutic for Several Brain Disorders
What Fruits Are Low In Carbs
Below are the top list of fruits and veggies low in carbs.
1. Plum – One medium-sized (65 grams) contains 7 grams of carbs.
2. Clementine – One medium-sized (75 grams) contains 8 grams of carbs.
3. Kiwi – One medium-sized (70 grams) contains 8 grams of carbs.
4. Cherries – Half a cup (75 grams or about 12 cherries) contains 8 grams of carbs.
5. Cantaloupe (melon)
This popular orange melon is great on a hot summer day and contains only 8.16g of carbohydrates and 0.9g of fiber per 100g of fruit, netting only 7.26g of carbohydrates.
Melons are also considered to be low-fructose fruits. Some people like to eat cantaloupe or honeydew with tuna salad. Try blending cantaloupe with lime, mint, and water to make a refreshing agua fresca.
6. Peach – One medium-sized (150 grams) contains 13 grams of carbs.
7. Watermelon
This quintessential fruit of summer scores lowest in carbohydrate content, packing only 7.55g per 100g of fruit. It's low in fiber, so most of this carbohydrate is absorbed. Watermelon is also high in vitamin A and has a high water content, which will fill you up while providing fewer calories. Even the rind has health benefits!
8. Berries
Berries are a popular choice for people watching their carb intake.
*Blueberries – Half a cup (75 grams) contains 9 grams of carbs.
*Strawberries – Eight medium-sized (100 grams) contains 6 grams of carbs.
*Raspberries – Half a cup (60 grams) contains 3 grams of carbs.
*Blackberries – Half a cup (70 grams) contains 4 grams of carbs.
9. Avocados
Yes, avocados are a fruit, and they have relatively low carbohydrate content to boot. For each 100g of avocado, you'll get an estimated 8.53g of carbohydrate and 6.7g of fiber, netting only 1.83g of carbohydrates!
In addition, that serving of avocado will give you healthy monounsaturated fats, which are known to be good for heart health. Slice avocado on top of a salad or wrap, make an avocado tomato salad, or serve it with boiled eggs. Learn 16 more reasons why you don't want to miss out on avocados.
10. Honeydew
Honeydew, another melon, comes in at 9.09 g of carbohydrates and 0.8 g of fiber for every 100 g, netting 8.29 g of carbohydrates. It's also an excellent source of vitamin C as well as potassium, an electrolyte you need to maintain good blood pressure, pH balance, and a healthy metabolism.
Try prosciutto-wrapped honeydew melon balls for a sweet-and-salty appetizer.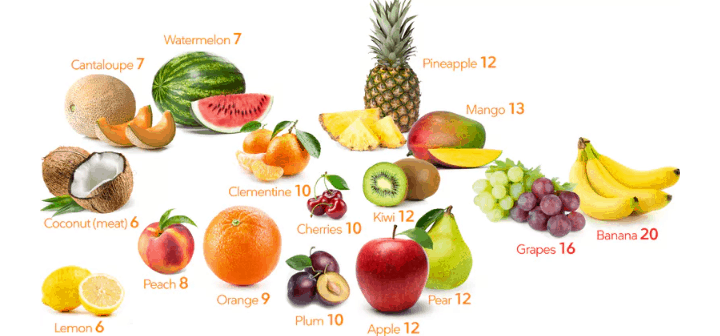 11. Cucumbers
(Read: health benefits of cucumber)
Cucumbers are a refreshing and nutritious addition to any salad — Greek or otherwise! Peeled, they contain just 2.16 g of carbs for every 100 g.
12. Iceberg lettuce
Perhaps one of the most popular — though least nutritious — vegetables, iceberg lettuce has only 2.97 g of carbohydrate per 100 g.
13. Celery
Celery has the same number of carbs as iceberg lettuce (2.97g per 100 g).
14. White mushrooms
Mushrooms contain only 3.26 g of carbs per 100 g.
15. Spinach
For every 100 g of spinach, you'll get 3.63 g of carbohydrate. To put that in perspective, that's only about 1 g per cup.
16. Swiss chard
Another nutrient-dense leafy vegetable, Swiss chard packs only 3.74 g of carbs per 100 g.
17. Broccoli
A nutrient-dense cruciferous vegetable, raw broccoli contains 6.64 g of carbs and 2.6 g of fiber, netting only 4.04 g of carbs per 100 g.
Conclusion!
Now we know what fruits and veggies are low in carbs and their benefits to our health. Hence we should make it an habit to eat them always especially if you want to loss weight, reduce your sugar level, lower your blood pressure, etc.