According to Roger Scruton, 'beauty is not just a subjective thing; it's a universal need of human beings.' There's a lot of truth to that, as the beauty industry has been booming in recent years.
Frankly, the global cosmetic surgery market is projected to grow even more in the next decades. 
No matter how diversified and inclusive the beauty standards are shifting, everyone wants to achieve that level of looking good and feeling good. Fortunately, many cosmetic treatments don't require you to go under the knife.  
If you're looking to enhance your natural beauty with noninvasive procedures, here are some that have been trending and getting rave this year: 
1. Skin Tightening
Aging is one of the inevitable things people experience in life, and hormonal changes usually cause this. Scientifically, many mechanisms contribute to the aging process.
However, there have been advanced technologies introduced in the cosmetic industry. One is the skin tightening procedure you can get at thebodyworkclinic or from your reputable beauty specialist.  
This procedure tightens loose and sagging skin. It specifically works on decreasing fine lines and wrinkles. What's good about it is it works all over the body, allowing you to look youthful through and through.
Multiple body areas can be shaped and tightened without surgery with this noninvasive treatment with fast results. With proper maintenance and skin care, the effects of skin tightening treatments can last for 12 months or more, giving you value for your money. 
Radiofrequency energy and ultrasound waves are used to penetrate deep into the skin. This non-surgical treatment penetrates deeply into skin layers and works to increase collagen building.
Within a few sessions, significant results can be achieved. Likewise, excess fat in certain body areas can be addressed with this method.  
2. Derma Fillers
Another noninvasive treatment that addresses aging or some other skin imperfections is derma filling. This treatment replenishes hyaluronic acid levels in the skin, and moisture is drawn from the body to ensure the skin looks plump and smooth.
Whatever symptoms of aging are present in your face, derma fillers can eliminate those and give you that youthful appearance once again. Besides, the added volume and fullness of the face reduce fine lines and wrinkles.
Normally, older adults complain about sagging skin, wrinkles, and a paper-like texture. Your face can look smoother and plumper again by using fillers to replace lost volume.
Aside from skin, fillers are also effective in aiding thinning lips. Some women who want to have full-looking plump lips go for derma fillers.
However, it's worth noting that this cosmetic treatment is not permanent and would last as long as two years. Thus, it's up to patients to decide whether to maintain getting this treatment now and then. 
3. Lip Blushing  
A popular trend among the elderly and young women today is semi-permanent makeup treatment, and lip blushing is one of them.
To enhance the color and appearance of the lips, the procedure involves tattooing pigment into them, making your lips appear red and bright even without wearing lipstick. 
As well as color-correcting, lip blushing also enhances lip shape and size. Hence, lips appear fuller and plumper with a more natural look after healing.
In addition, due to the considerable number of women who tried this procedure, many others who have seen the results online are interested in trying it out.
Depending on the individual, semi-permanent treatments may last from a few months to a few years.  
4. Nonsurgical Nose Lift  
For people who aren't born with a sharp pointed nose, this nonsurgical nose lift is best for you, especially because it doesn't require you to go under the knife. It's the best alternative to the famous traditional rhinoplasty of the past.   
Fillers used in this procedure include hyaluronic acid. The treatment creates symmetry between the nostrils and smooths out bumps on the bridge of the nose. 
This nonsurgical nose job requires a shorter time to recover and heal than the conventional cosmetic procedure, so you'll get that beautifully proportioned nose in no time. Yet note that this is not a permanent solution and can only last from 9 to 18 months, and requires additional fillers to maintain your desired results. 
5. Chemical Peels  
While there are many tips to improve your skin health, it won't hurt to go through some treatments that can make your skin look even more flawless. This is what chemical peels can do for you—lighten your facial skin and more—creating that dewy look.  
Chemical peels are another popular nonsurgical treatment in the cosmetic industry. By removing the outer layer of your skin, chemical peels exfoliate and retexture it.
This is the easiest way to improve your skin appearance. Its main effects are geared toward the disappearance of acne marks and scars, lessening wrinkles and fine lines, and treating sun-damaged skin.
Most patients undergo this regimen twice a year or so, as their effects usually last within two to six months.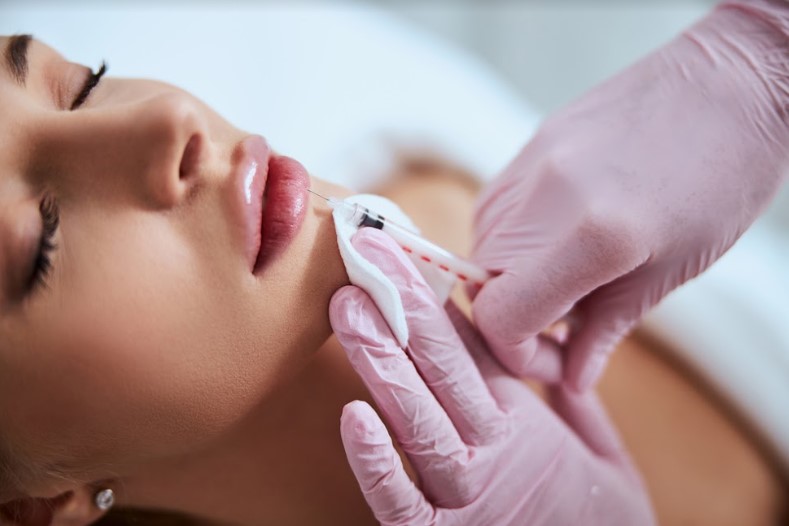 Conclusion  
The noninvasive cosmetic procedures mentioned above are your best alternatives if you want to enhance your beauty but are afraid to experience pain and surgeries. Whatever cosmetic treatment you go for, the key is to visit a reputable beauty clinic with trustworthy specialists in the industry.