Whether by design or by default, a lot of people seem to cut their hair short after a massive breakup. Perhaps they need a surge of power and confidence to move on or maybe it's their way of showing their battle scars.
At any rate, there always seems to be a link between one's hairdo and emotional state.
In this day and age, there's more to hair grooming than practical considerations. Women and men alike have their hair treated, dyed, and styled for beauty, fashion, and self-satisfaction for the most part.
Especially now that salons offer not only hairstyling but other beauty services as well, people have more reasons to visit a salon.
And the benefits are more than meets the eye, literally! Read on to find out how regular salon visits can be beneficial to your mental health. 
The idea of someone massaging and caressing your scalp and hair is pretty inviting. Your hair follicles and scalp have specialized sensory neurons, making it incredibly gratifying when someone brushes and styles your hair.
And that's one reason why visiting a salon is therapeutic. Another reason is getting your hair and nails done and having a soothing facial make you feel relaxed and rejuvenated as if all the stress is drained from your body.
There's also something about going to a salon with friends that makes the experience even more worthwhile. 
Moreover, the overall vibe of a salon makes you feel at ease. The components in a salon from the color scheme to the furniture, such as those from Concept Salon Furniture, are designed to provide comfort for a value-added positive experience. 
Seeking an expert to do your hairstyle and other cosmetic treatments makes a salon visit reasonably worry-free. 
For one thing, you can discuss with a professional hairstylist the haircut that you have in mind, probably the latest trend you've seen on the internet.
Since you know that not all hairstyles can work for you, you can trust a professional to give expert advice as to which ones will look great on you. 
Some salons have become popular and sought-after because of the quality of services their beauticians deliver. It's one thing to spot a great hairstyle, but quite another to find an expert hairstylist who can execute it.
Only a professional hairstylist can help you achieve the same look you've seen in a social media post. 
Despite its regenerative properties, your hair is really sensitive and doing hair treatments requires expertise. Watching a how-to video on coloring your hair, for instance, makes it look so easy, but doing it yourself could be rather tricky and can potentially harm your hair.
If you don't want to worry about whether you're doing it right, have a professional do it for you. The moment you sit on the salon chair, you can simply rest easy, knowing that the outcome will turn out great. 
It Helps You Be More Confident
If you haven't had your hair done in a salon, then you're probably missing out on that post-salon glow. It's like exuding confidence in your every move, with a smile that comes from feeling absolutely pretty.
Smiling comes more naturally now, making you seem more approachable and that could lead to good things in your personal and professional life. 
And as mentioned, beauty salons do magic not only on your hair but also on your skin and nails, and even give you tips on how to take proper care of them.
Having someone guide you in maintaining that healthy glow for your skin and that silky shine for your hair is such a big help. For hair care tips from the experts, look at this guide. 
It Becomes Your Safe Space
People have different ways of seeking relief from unpleasant realities. Some go hiking, hang out with friends, or play video games, while others go to a salon. Indeed, with the comfort that a salon could give, a lot of people consider it as their go-to stress reliever. 
Moreover, no one can deny the special treatment everyone gets in a salon is addictive. Being treated like royalty is a wonderful feeling. How do you even quantify the nonjudgmental and positive treatment you get from your favorite hairstylist? Absolutely priceless.
Beauty salons build a relationship with their clients that goes beyond the typical customer relationship. Although salon staff maintains a professional relationship with their clients, it's often the case that their clients become their friends!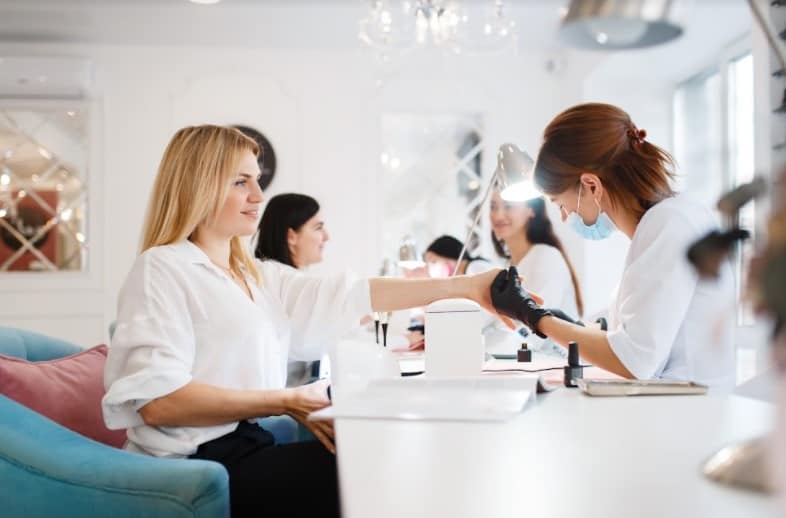 Conclusion:
When people look at you, one of the first things they notice is your hair. How well you take care of your hair is often an indication of how well you're taking care of yourself. No matter how busy you get, you should never neglect self-care.
Having regular salon visits is one way to do this. The benefits transcend the physical and extend to your mental well-being as well.