In a situati0n where you run short of chilli powder, is there something else you can use?
Oh yes! There are several substitutes for chilli powder, you'll find out below. And we would show you how to make chilli powder just in case.
First, let's be sure you understand what chilli powder is. Chilli powder is a blend of spices which includes cayenne pepper. It is NOT cayenne pepper! The blend of spices is cumin, oregano, garlic powder, and cayenne pepper but the ratio of cayenne pepper is only about 1/8th of the total blend. If you have the other ingredients available, you would use equal parts of oregano, cayenne pepper, and ground paprika, 2 parts garlic powder, and 3 parts ground cumin. Can you get away with using just some of the ingredients? Sure but it will not be the same as if you are using a true blend of the spices.
What Is a Good Substitute For Chili Powder?
[the_ad id="141976″]
Just like rice vinegar, chilli powder also has alternatives, while these alternatives may not be ideal and may not give you the same intended flavour and heat of the recipe you're using, here are some ideas that might help you in a pinch.
Ancho powder is used in many chilli powder blends. It is responsible for most of the flavour that you get from chilli powder. If that flavour is what you want, ancho powder should meet your needs. It brings a mild heat to dishes, along with smoky and fruity flavour notes. It consists of ground poblano peppers with no other additives. When using ancho powder in place of chilli powder, add about half the amount that your recipe specifies for chilli powder and work up from there.1
The chipotle powder consists of ground chipotle peppers and has no other ingredients. Chipotle peppers are jalapeños that have been dried and smoked. The chipotle powder has a rich smokiness that will add a significant amount of flavour to your dish, even when used in small quantities.
Because the chipotle powder is made with jalapeños, it does have the potential to make your dishes hotter than they would be with most premixed chilli powder blends. Use it carefully. Start with half the amount specified in your recipe and increase in increments from there.1
Oregano in Greek means 'delight of the mountains.' This culinary herb is bound to put a smile on your face when you taste it. People, throughout history, have made good use of this herb in many recipes, which include French and Italian cuisine. Later on, it went on to be famous in other parts of the world, including the US. It gained maximum visibility when it started being used in pizzas. Oregano leaves a very numbing taste. It is slightly bitter and hot. Therefore, it can act as a chilli powder substitute.
Paprika can be a very good alternative for chilli powder. It is red in colour and is native to South America. It is used to add flavour to wafers, packed food, and different types of seasonings. One of the many countries using this as a culinary agent is Hungary. These can be hot and sweet and can be made smoky by smoking and then drying them. The other varieties of it are jalapeño and cayenne.
This particular herb has been mentioned in the Bible for its goodness. It has a rich aroma, and lends a great flavour to foods, like stews, curry, or even tea. It can be easily combined with many ingredients and then used as one of the alternatives for chilli powder. It can be used in its whole form or powdered. It can make the food spicy. The land of its origin is the Mediterranean.
Black pepper or Peppercorns
[the_ad id="141978″]
These tiny beads are native to India. They are used highly in almost all countries in Asia. But this doesn't limit them there only, as they are optimally used in all parts of the world. They are great to relieve one from insomnia, cough, diarrhoea, indigestion, etc. The taste is definitely hot! It is used in soups, stews, marinades, salads, etc.
2
The next best thing to do in the absence of chilli powder is to make your own chilli powder recipe.
This is an easy recipe and contains most of the herbs and spices you have on hand at home.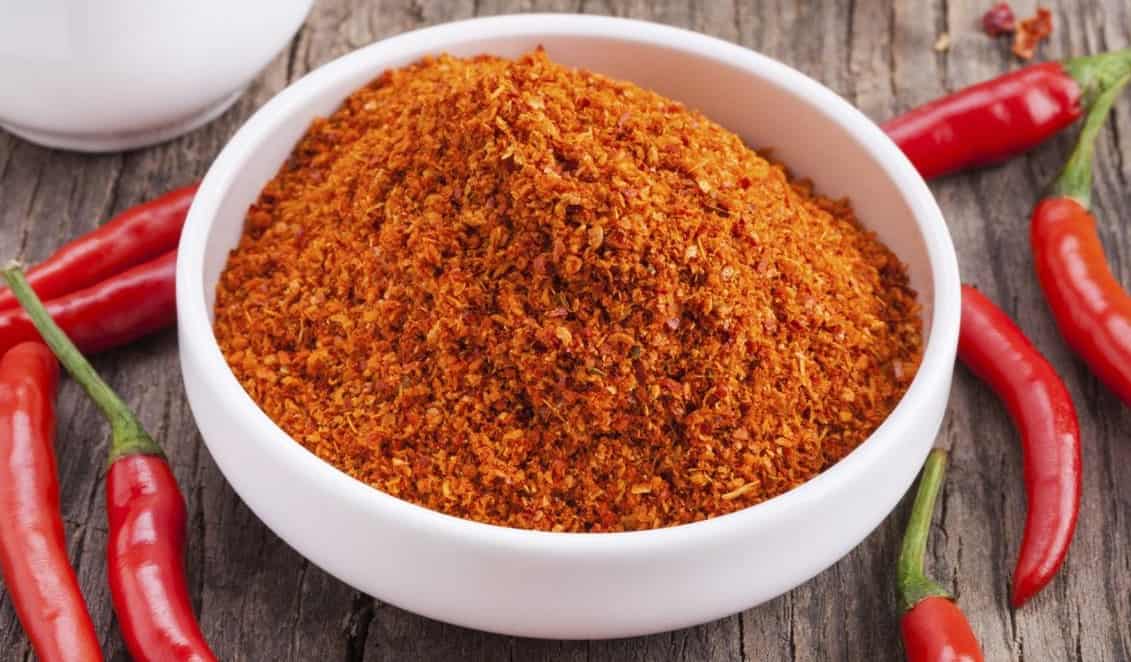 How to Make Chili Powder
[the_ad id="141979″]
Preparation time: 
Total time:  
Yields: 7 tsps
Ingredients:
1 teaspoon paprika
2 teaspoons ground cumin
1 teaspoon cayenne pepper
1 teaspoon oregano
2 teaspoons garlic powder
Instructions:
[the_ad id="141976″]
Combine all ingredients and store in an airtight container.3